Used wire crushing machine for copper rice
Time:2021-05-28 11:48 Author:Suny Group
Copper rice machine equipment is the key equipment used to process waste wires to separate copper and plastic. Copper rice machine is also called copper wire sorting and separator. It is divided into dry type copper rice machine and wet type copper rice machine, which can crush waste wires and copper. The plastic separating copper rice machine plays a very important role.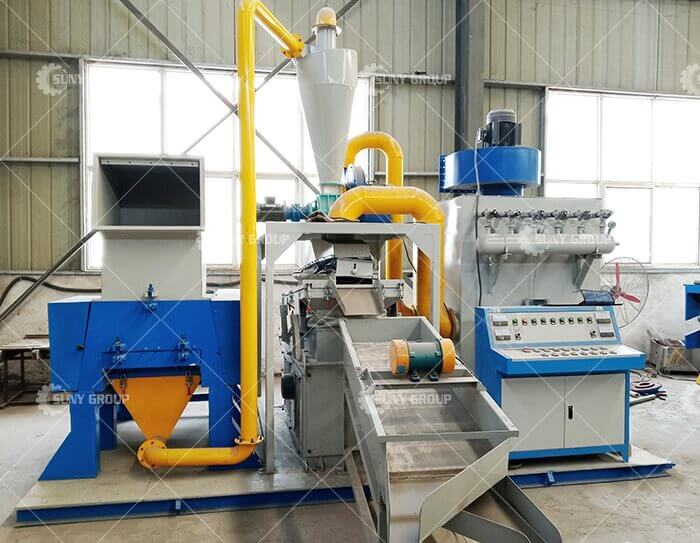 The copper rice machine uses the principle of different specific gravity of copper and plastic to separate the cable sheath and the copper core in the wire. Under the action of wind, the two different materials pass through the inclined screen surface and make the deflection caused by the amplitude movement to make the density The large copper wire is adhering to the sieve toward the copper outlet, and the low-density plastic skin floats on the copper wire and flows to the outlet. The pure copper and waste plastic can be re-processed and smelted and reused, which solves the resource problem.
The crusher, sorting equipment and dust collection equipment of the copper rice machine adopt the platform combination type, which makes the equipment easy to move and transport, and increases the stability of the equipment. The pulverizer adopts alternating knife shafts, which makes the pulverizer high in production efficiency, low in noise and stable in operation. The material return system is used to pulverize semi-finished products and separate metals and non-metals. The bag dust collection equipment controls the dust overflow, and the dust removal efficiency is high.
The copper rice machine is used to crush and separate cables of different thicknesses such as automobile circuit lines, communication cables, and various miscellaneous cables that are not suitable for processing by stripping machines. After crushing, they are shaken and separated. The copper and plastic can be separated, and the purpose of comprehensive utilization can be achieved. And no dust pollution. In addition, the copper rice machine is an integral combined structure, which is easy to install and debug, and the transportation performance is stable. The operation is simple.
Tags:
If you have any requirement or suggestion, please fill in the form and send to us, or contact us by E-mail:sunymachine@gmail.com,thanks!