Precautions for the use of flat mask machine
Time:2021-06-02 10:04 Author:Suny Group
Speaking of industries that are relatively hot this year, they may be flat mask machines and industries that match masks. As the global epidemic continues to spread, people still need to wear masks when they go out. Therefore, the delivery volume of flat mask machines is still relatively high. After mask manufacturers purchase the equipment, what should be paid attention to during use?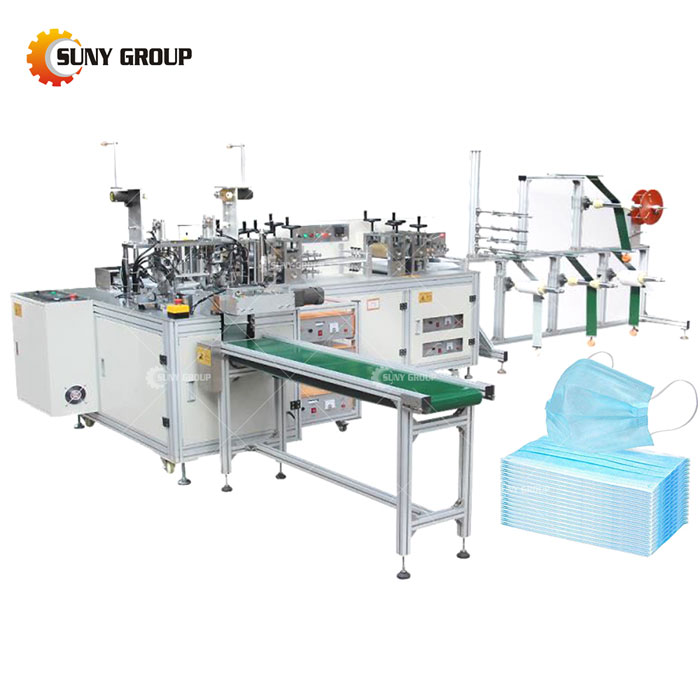 The precautions when using the flat face mask machine are as follows:
1. The pressure of each component should be well controlled and adjusted before use, which can reduce the load of the entire unit.
2. When the main engine is turned on, it is necessary to manually pull the raw materials produced by the mask into the welding mold, so that the equipment can carry out the following production process, so that the production can be carried out smoothly.
3. During use, every bearing on the equipment needs to be checked regularly to ensure that the bearings are running well.
4. It is necessary to master the order of starting up. Before starting the host, you need to turn on the ultrasonic welding machine. The purpose of this is to prevent the setting of excessive load. If the load is too high, it is easy to burn the ultrasonic welding machine. .
The flat mask machine has relatively high accuracy requirements when producing masks, and requires high stability of the accessories. If there is no frequent maintenance and replacement of accessories during use, once the accessories are deformed and worn, it will greatly reduce the efficiency of mask production and even cause the equipment to fail to start.
Regular maintenance and maintenance can keep the flat mask machine running stably and extend its service life, helping mask manufacturers to reduce costs.
Tags:
If you have any requirement or suggestion, please fill in the form and send to us, or contact us by E-mail:sunymachine@gmail.com,thanks!