Can the capillary wire of the scrap miscellaneous wire network cable be separated clean with an electrostatic copper meter machine?
Time:2021-06-04 10:10 Author:Suny Group
The copper rice machine dry-type crushing of old wires and copper-plastic separation to beautify the environment. Since the appearance of the copper rice machine in the market, various waste wires and cables have been effectively recycled. In the past few years, most of the waste wires and cables were separated from copper and plastic by incineration, which caused serious pollution to the environment. Another way to take copper from cables is to use a wire stripping machine to process the cables. This kind of copper takes good effect, but one problem is that the device can only strip the wires one by one. This yield is very high. low.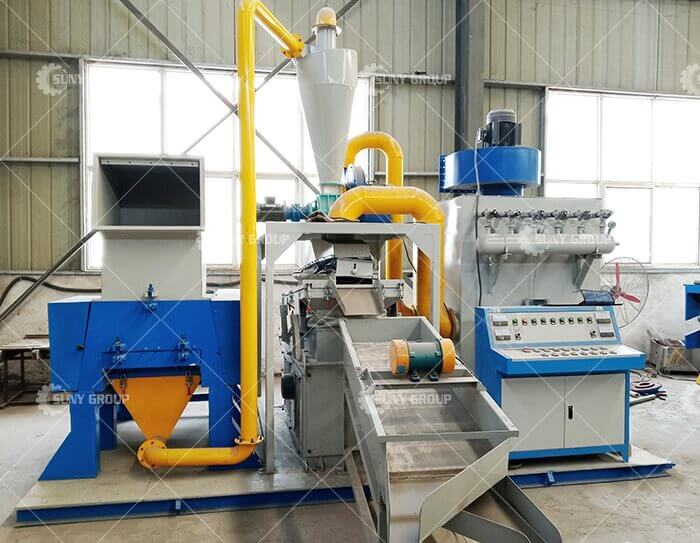 The appearance of the copper rice machine solved the environmental pollution and also solved the production problem. Scrap square wires, car wires, cable heads, electrical wires, electric car wires, disconnected wires, network cables, etc., most of these scrap wires are copper wires, which contain business opportunities and profits. Especially some bad miscellaneous wires, that is, it is inconvenient to use a wire stripper and cannot be incinerated. Moreover, the miscellaneous wire collection is cheaper, and the profit after the copper output is greater. This requires an electrostatic dry copper rice machine for recycling. For example, some miscellaneous wires, network cables, scrap wires, capillary wires, etc. cannot be processed with wire strippers. In the past, most of them used incineration or water-type copper rice machines. But because it pollutes the environment, it cannot be used again in the future. The electrostatic dry copper rice machine is a newly developed special equipment for the recycling of these miscellaneous wires.
The electrostatic copper rice machine is a relatively advanced technology for processing waste cables. After the waste cables are processed through a series of processing methods, pure copper rice particles and plastics can be obtained. The so-called copper rice is copper particles whose quality is equivalent to that of electrolytic copper and can be used directly. The electrostatic copper rice machine will become the mainstream of the market and has high economic benefits. Therefore, it can meet the current market gap and cater to market demand. Under the circumstances of increasing environmental pressure, the tasks of preventing pollution, strengthening energy conservation and emission reduction, and developing circular economy are very onerous. Transforming economic development methods and promoting the coordinated development of economy, population, resources and environment have become very urgent issues. The appearance of the copper rice machine saves resources, protects the environment, and can recycle and reuse valuable waste wire and cable resources.
Tags:
If you have any requirement or suggestion, please fill in the form and send to us, or contact us by E-mail:sunymachine@gmail.com,thanks!