Mask machine ultrasonic generator, non-woven mask ultrasonic welding machine
Time:2021-06-04 10:07 Author:Suny Group
The production of disposable masks or N95 masks mainly uses ultrasonic welding process to roll and synthesize, and then use ultrasonic spot welding to weld the ear straps together. A set of mask ultrasonic welding system includes: ultrasonic generator, ultrasonic transducer, ultrasonic welding head and fixed flange. It is a device that can continuously release ultrasonic vibration energy for a long time. It is suitable for mask machines, slitting machines, and stitching machines. , Non-woven fabric machine, plastic bag machine, lace machine, etc. where continuous or longer use time is required. The specific industries used are: mask manufacturing, non-woven bags, non-woven clothes stitching, medical sanitary clothing, diapers, trademark slitting, nylon tape cutting, curtain machines, paper cup machines, fabric slitting cutting, plastic bag sealing, ultrasonic dispersion , Mixing, emulsification, crushing, etc.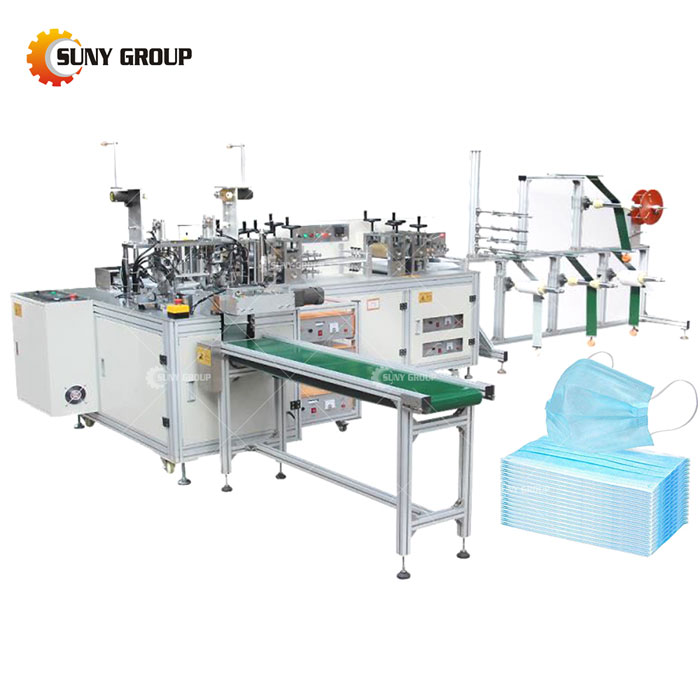 The production process of disposable medical flat masks generally requires 5-6 ultrasonic welding systems. The mask body is completed by ultrasonic seam welding with a pattern roller, or two side and upper and lower ultrasonic seam welding processes, which require continuous ultrasonic devices. , Generally use 15khz 2600W or 20khz 2000W continuous long vibration ultrasonic welding device, ultrasonic steel mold size 110x20 or 120x25. The welding of ear straps is usually ultrasonic spot welding on each ear strap at the same time. The size of the mold is 110x15-20. Steel molds and aluminum molds can be used. When aluminum molds are used, the working surface is generally hardened.
After long-term unremitting efforts, the company's technical staff has solved the common problems in the industry by optimizing the structure and parameters of the ultrasonic generator's driving transformer, output transformer, output matching coil, high-voltage matching capacitor, and ultrasonic transducer (ultrasonic vibrator) , The heating degree of the ultrasonic vibration system is greatly suppressed, and the working stability and reliability of the system are greatly improved. After long-term use by customers, the feedback results show that after continuous use of 8H, the load current and amplitude meter only slightly increase, the working condition is good, and the temperature of the ultrasonic generator power board and ultrasonic transducer is within the normal range.
Tags:
If you have any requirement or suggestion, please fill in the form and send to us, or contact us by E-mail:sunymachine@gmail.com,thanks!