How about the horizontal four-side sealing automatic wet tissue packaging machine
Time:2021-06-09 10:29 Author:Suny Group
Scope of application: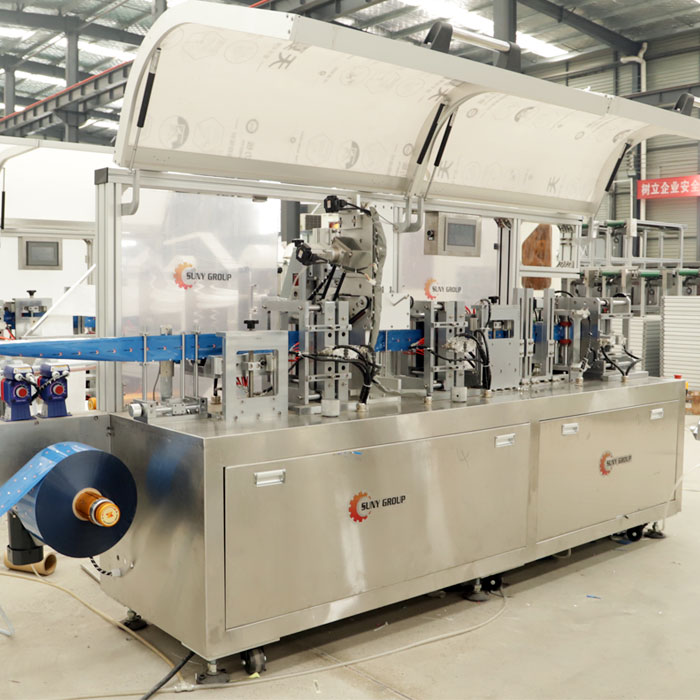 It is suitable for the production and packaging of all kinds of four-side-sealed wet wipes, alcohol cotton sheets and other sanitary and medical products.
Main performance and structure characteristics:
1. With strong machine continuity and stability, it is most suitable for the production of all kinds of four-side-sealed wet wipes, alcohol cotton pads, cosmetic cotton and other products.
2. Single bag and double bag can be adjusted freely (Alcohol cotton sheet can be used for 4 bags at most).
3. The packaging film is folded in half, photoelectrically corrected, no white edges, and low scrap rate.
4. Different folding methods can be realized. Wet wipes: up to 10 folds vertically and 4 folds horizontally,
5. Using metering pump imported from Japan, multiple liquids can be sub-packaged or mixed. Accurate control (the error of adding liquid is 0.01ml/time).
6. Seal twice to avoid leakage.
7. Simple and easy to control, servo motor, PLC touch screen, temperature, speed and length of wet wipes can be adjusted freely. Optical and electrical integration design, automatic fault alarm and safety control instructions.
8. Stainless steel body, beautiful and durable, low power and air pressure consumption, easy to clean, greatly reducing operating costs and maintenance costs.
9. Airtight sanitary hood to avoid pollution and low noise!
10. The aluminum alloy sealing mold is used, which is resistant to heat and deformation.
Tags:
If you have any requirement or suggestion, please fill in the form and send to us, or contact us by E-mail:sunymachine@gmail.com,thanks!