How to recycle scrap tires?
Time:2021-06-25 09:53 Author:Suny Group
How to deal with the new "black pollution" solid waste has become a hot topic of social discussion and attention in the new era. So, what are the effective ways to recycle used tires?
Retreading of used tires-the new embodiment of the circular economy is the refurbishment of used tires. As the name implies, the used tires are processed and put on the market for reuse. From this it seems that the retreading and reuse of used tires will play a role in promoting the development of circular economy.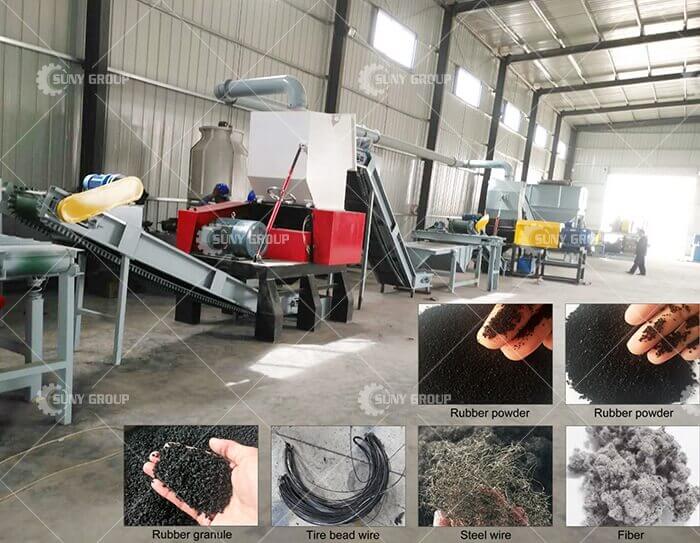 Restructuring of the original shape of waste tires-turning waste into treasure. The original shape reformation, as the name suggests, is to transform waste tires into valuable items through various methods, including bundling, cutting, and punching.
Paving the road with waste tires-new technology and new life. Used tires used for paving roads are called rubber asphalt. This new method of recycling waste tires originated in the United States in the 1960s-processing waste tires into rubber powder, which is added to asphalt as a modifier.
Solid waste fuel-the embodiment of light and heat. Waste tires are a kind of high calorific value material. The calorific value per kilogram is 69% higher than that of wood, 10% higher than bituminous coal, and 4% higher than coke. The waste tires are crushed, and then mixed with various combustible wastes in a certain proportion to prepare solid waste fuel (RDF) for blast furnace injection instead of coal, oil and coke as fuel for burning cement or for coal and thermal power generation. At the same time, the method has a by-product-carbon black is generated, which can be used as a reinforcing agent for the production of rubber products after activation.
Reclaimed rubber-the reproduction of tires. Using chemical methods to desulfurize waste tire rubber to obtain recycled rubber is an ancient method for comprehensive utilization of waste tires. The currently used reclaimed rubber production technologies include dynamic desulfurization, normal temperature regeneration, low temperature regeneration, low temperature phase transfer catalytic desulfurization, microwave regeneration, radiation regeneration, and extrusion regeneration.
Tags: