copper pvc wire recycling small machine
Time:2021-07-01 10:51 Author:Suny Group
Scrap copper cables are very common in life, and what people usually call "recycled copper" actually refers to the recycling and reuse of scrap copper. Scrap copper cables are one of the processing raw materials for recycled copper. See below for the copper recovery and reuse method of copper cables.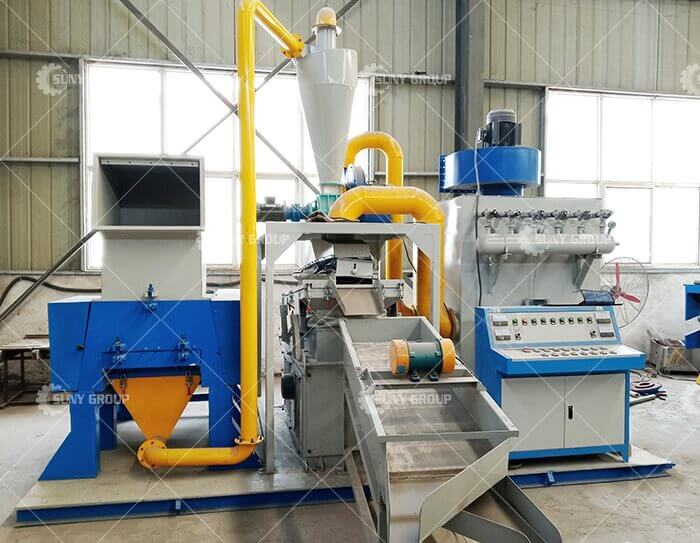 The mechanical separation method refers to the use of crushing and sorting methods to separate the copper in the waste copper cable. Here, a copper rice machine recycling equipment is required.
The copper rice machine is suitable for processing waste copper cables with different diameters and specifications. Through dry crushing, the waste copper cables are crushed into a copper-plastic mixture, and then the waste copper cables are separated by airflow proportions and high-voltage electrostatic separation technology. The copper and plastic are separated separately, and the purity of the copper-plastic separation is 99%! It is currently a better method for recycling and reusing waste copper cables.
Fire separation
The fire separation method refers to the use of fire to burn the waste copper cable plastic skin, and the rest is the metal copper. In this process, the copper will be destroyed and the reuse rate will be reduced. Therefore, compared with the mechanical separation method, it is not a better recycling method. Reuse method.
Cryogenic freezing
The low-temperature freezing method requires first freezing to make the insulating layer brittle, and then shaking and breaking to separate the insulating layer plastic from the copper wire. This method takes a long time to separate the copper metal, has a small amount of processing, and has low practicability.
The above are three methods for recycling and extracting copper from waste copper cables. The better method is to use the copper meter mechanical separation method to recover the copper and plastics in the waste copper cables, which can be used in different processing and production scales.
Tags:
If you have any requirement or suggestion, please fill in the form and send to us, or contact us by E-mail:sunymachine@gmail.com,thanks!