Copper rice machine realizes high-value utilization of waste wires and cables
Time:2021-07-15 17:20 Author:Suny Group
The waste wires and cables produced in the automobile industry or the electronics (including wires and cables) industry are incinerated in the open. The surface plastics are removed to recover the copper wires. Although the waste is cheap, the combustion temperature cannot be controlled during the incineration process. Harm to the human body and serious pollution, so it is strictly forbidden to use. How to effectively recycle and reuse all kinds of waste wires and scrap cables contained in the dismantling of waste home appliances, to separate the metal copper and non-metallic plastic skins; effective separation has always been a top priority in the later stage of the home appliance dismantling project s project. Lvjie environmental protection copper rice machine promotes the high-value utilization of waste wire and cable recycling in my country. It uses copper rice machine, crusher, screening and other methods to sort out copper and plastics and recycle them.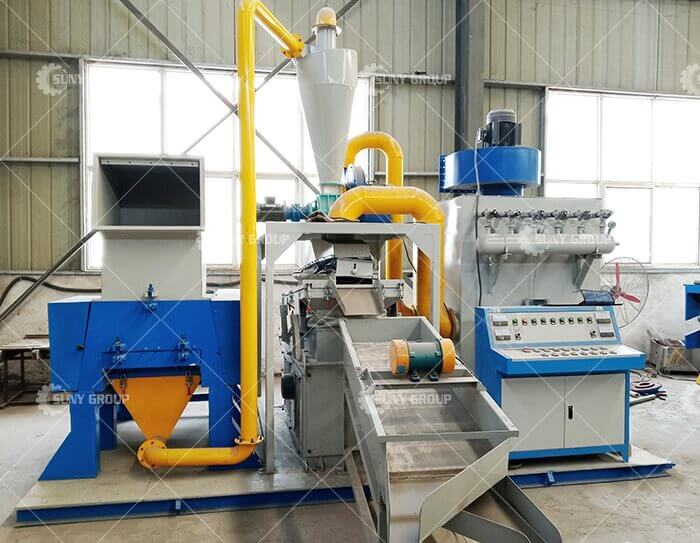 The copper rice machine is mainly an environmental protection equipment for crushing and recovering copper particles (copper rice) of waste cables, wires, copper wires, and copper-containing miscellaneous wires. The copper rice machine is divided into two types of dry copper rice machines and water-type copper rice machines. machine. The low efficiency, environmental pollution, or high cost of the water-type copper rice machine has been eliminated or restricted. The working process of the automatic dry copper rice machine: After the raw material is crushed to a certain size in the crusher, it is transported by the conveyor belt to the air flow sorting Copper rice and plastic. Under the double left and right of vibration and wind, the copper particles are screened out from the copper outlet in the front of the air separator, and the plastic is screened out from the plastic outlet in the rear. We are also equipped with front and rear vibrating screens to further screen the materials screened by the air separator to improve the purity of the materials. The whole process is equipped with a bag filter, so there is no dust pollution. The processing capacity is: 500kg/h (the processing capacity will vary depending on the raw material to be processed) separation rate; 99.6%.
The environmental protection copper rice machine promotes the high-value utilization of my country's waste wire and cable standard recycling. The raw materials that can be processed include various miscellaneous yarns, telephone lines, home improvement lines, miscellaneous wires, capillary wires, network wires, single-stranded industrial cables, communication wires, automotive wires, etc. A series of wires can also be used to recycle various single stranded aluminum core wires. And promote the standardization, industrialization, and large-scale recycling of waste wires and cables, forming new growth in the resource recycling industry, and promoting green development, recycling development, low-carbon development and ecological civilization construction.
Tags:
If you have any requirement or suggestion, please fill in the form and send to us, or contact us by E-mail:sunymachine@gmail.com,thanks!