Copper rice machine is a very useful environmental protection equipment for processing waste wires and cables
Time:2021-08-09 17:03 Author:Suny Group
In order to better respond to the call for environmental protection, many environmental protection equipment began to appear in everyone's field of vision. I don't know if everyone knows about the copper rice machine. Its work can turn waste wires and cables into treasures and recreate use value. , Is also a very useful environmental protection machinery, so how much do you know about its advantages, let's take a look.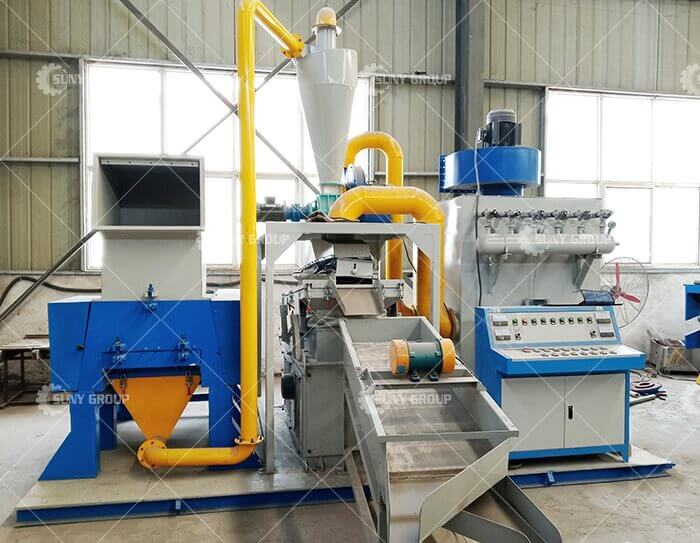 The copper rice machine does not use water or incineration in the process of processing waste wires and cables. It is a new type of dry processing technology. The equipment is equipped with dust removal equipment, which does not produce fly dust or waste water. It meets current environmental protection requirements. During processing, different sizes of wires do not need to be sorted. They can be put into this equipment at the same time. After crushing, they can automatically separate clean copper and plastic; the crushing and separation effect of the copper rice machine can withstand the test. After testing the copper and The separation purity of plastics can reach more than 99%. It is a very mature device!
After the waste wires and cables are frictionally sheared into fine particles by the pulverizer, the copper rice and plastic rice are sorted by a vibrating winnowing system, and the sorted copper and plastic are discharged through different outlets. The whole set of equipment adopts a platform-type combination design. The manufacturer will debug the equipment before leaving the factory. After the customer receives the machine, it can be used without re-assembly and debugging; PLC control, uniform feeding, intelligent operation, can be based on the future The working load at the end automatically adjusts the feeding frequency of the front end, so that the system will not stop due to overload, simple operation, time-saving and labor-saving; wide application range, wire and cable with a wire diameter of 0.5-30mm can be used, and the length is not limited;
About the copper rice machine, please read an article to finish it, but it is useless if you didn't use it yourself. If you want to understand the principle of the equipment, you need to go to the manufacturer to carefully inspect the test machine, and be careful not to be cheap.
Tags:
If you have any requirement or suggestion, please fill in the form and send to us, or contact us by E-mail:sunymachine@gmail.com,thanks!