Waste motor rotor recycling equipment
Time:2021-08-14 14:48 Author:Suny Group
The waste motor rotor recycling equipment is the main operating part of the hammer crusher. The SUNY GROUP motor rotor crusher first feeds the material into the crushing chamber, and then the crush is mainly formed by the hammer on the rotor, so the balance of the rotor The wear resistance of the hammer is very important. Before the rotor leaves the factory, including installation and trial operation, we will conduct a static balance test on the rotor. This can effectively ensure the stable operation and vibration of the rotor, and also effectively lift the rotor. The life of each component on the above.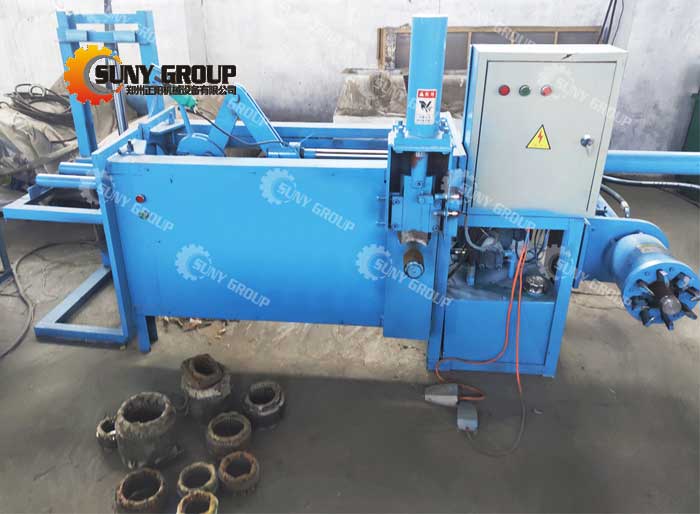 The waste motor rotor recycling equipment is flexible and convenient to use, compact in structure, and large in output. It is mainly used for the recycling of waste resources. The motor rotor crusher is a multi-purpose crusher equipment for crushing scrap metal barrels, cans, metal scraps and other scrap metals. The scrap metal can be crushed into small particles, which is convenient for transportation, saves transportation costs, and can also speed up the speed of metal refining. On the basis of absorbing the advantages of various crushers, it is carefully developed by making full use of the practical experience of impact, shearing, mutual impact, and grinding. When working, the materials are fully crushed in the crushing chamber, with high output, low energy consumption, high efficiency and uniform discharge. And when the equipment is running, it has low noise, no pollution, simple operation and convenient maintenance.
Scrap motor rotors and stators; small motors, car generators, battery car motors, washing machine motors, power tool rotors, soybean milk machine rotors, electric car toy motors and many other scrapped motors or motors can all be used Gongyi Ruisaike Machinery Equipment Co., Ltd. The scrap motor rotor crusher equipment is used for crushing and dismantling. The motor rotor dismantling equipment can also crush any metal materials, such as: waste bicycles, motorcycles, automobiles, color steel tiles, paint buckets, cans, steel castings, and scrap steel plates. , Steel bar, scrap stainless steel, aluminum plate, pig iron, etc. Under the background of low utilization rate of waste motors in our country, investing in waste motor rotor recycling equipment has good market prospects and development potential, and it is a good investment project for turning waste into treasure at present.
Tags: