Features of Multifunctional Wet Wipes Folding and Humidifying Slicer
Time:2021-08-25 11:27 Author:Suny Group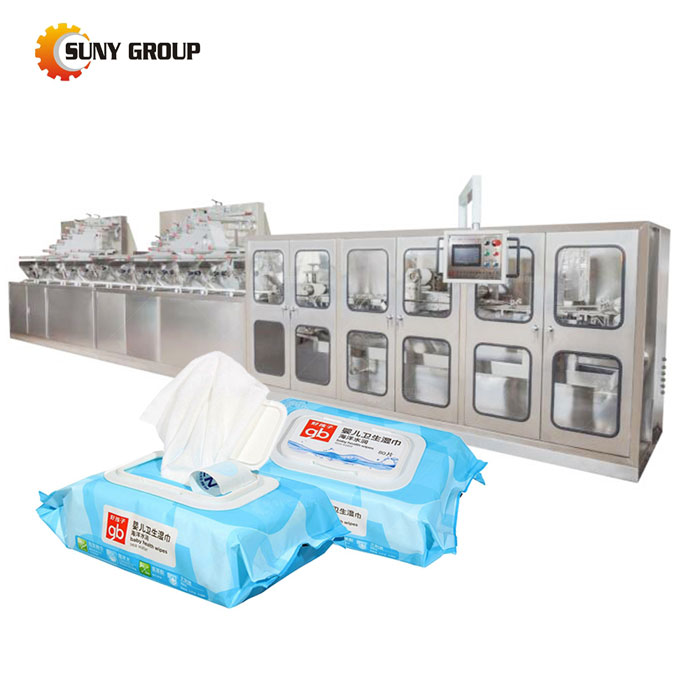 Portable Wet Wipes Making Machine
0. The performance structure and characteristics of the equipment:
1. Equipment production requirements: suitable for wet wipes processing of spunlace non-woven fabrics, hot drapes, hot melt cloths, and hot air cloths.
2. The working principle of the equipment: Synchronous conveying-automatic folding-humidification-simultaneous pressing and drying-automatic rewinding-round knife cutting-transfer fixed length cutting, complete.
3. The equipment is equipped with a wide belt synchronous conveying device and two tension control devices to ensure the dimensional accuracy of the folded finished product.
4. The equipment is equipped with two sets of stainless steel guide plate type special-shaped folder, which is convenient to adjust, fold the product size and run smoothly.
5. The equipment is equipped with a complete set of stainless steel liquid adding and pressure drying system to ensure that the product liquid is evenly wet.
6. The equipment is equipped with an adjustable roller cage diameter size device to reduce waste.
7. The equipment is equipped with dual infrared counting devices.
8. The negative machine of this equipment is a band saw cutting machine, cut to length. The negative machine is equipped with an automatic sharpening device.
9. The table top of the whole machine and the parts related to the product are all made of 304 stainless steel.
10. This equipment has the characteristics of low material consumption, strong practicability, changeable various special-shaped folding methods, arbitrary adjustable specifications, neat folding, high output, etc. It is an ideal processing equipment for producing 30-80 pieces/pack of wet wipes.
Tags: