Scraped circuit board electronic waste shredding and recycling production line
Time:2021-08-27 12:00 Author:Suny Group
The waste PCB substrate disassembly production line can recycle various waste circuit boards, mobile phone motherboards, and copper-clad circuit boards. The equipment achieves the separation of metals and non-metals through crushing, separation, and sorting, so as to realize resource recycling. Common circuit boards and circuit boards contain a variety of metals, most of which are copper, in addition to gold, aluminum, nickel, lead, silicon, etc., among which there are many rare metals. These metals can be recycled and reused by crushing and recycling waste circuit boards, copper clad laminates, PCB/FPC circuit boards, and the metal recovery rate has reached more than 99%. The separated metals can be sold directly, and non-metals can be used for secondary collection. , Used in wood-plastic materials, building profiles and other composite materials or plates, and fire-resistant products.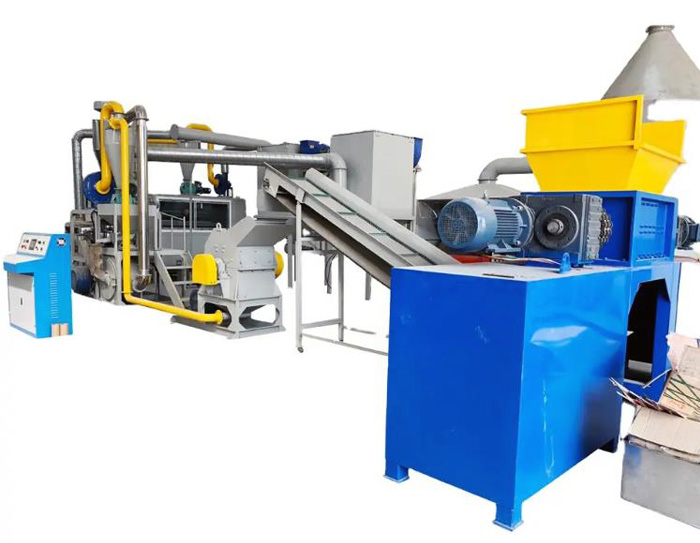 Product features of waste circuit board recycling equipment waste circuit board processing production line:
1. Compact structure, reasonable layout, stable performance and low noise.
2. The waste circuit board recycling equipment adopts PLC to control the uniform feeding of the complete production line and coordinate the operation.
3. The waste circuit board recycling equipment adopts two-stage crushing, so that the processing capacity can reach 800kg per hour.
4. The crushing chamber adopts circulating water for temperature control and noise reduction.
5. The entire production line adopts negative pressure feeding to effectively reduce dust overflow.
6. The material return system makes the crushing more efficient.
7. The sorting rate of air-flow sorting equipment is as high as 97%.
8. The efficiency of pulse dust removal equipment is as high as 99%, which effectively suppresses the volatilization of dust, and fully meets the national environmental protection requirements "Comprehensive Emission Standard of Air Pollutants" GB16297-1996, no secondary pollution.
9. The high-voltage electrostatic sorting machine makes the sorting more refined and efficient, and effectively controls the loss of non-ferrous metals.
11. Equipped with magnetic separation function, which can separate iron from materials.
10. Bridges and guardrails are set up at the height of the complete production line to facilitate the maintenance personnel to monitor and maintain the equipment in real time.
Tags: