Daily maintenance method of flat mask machine
Time:2021-08-28 12:10 Author:Suny Group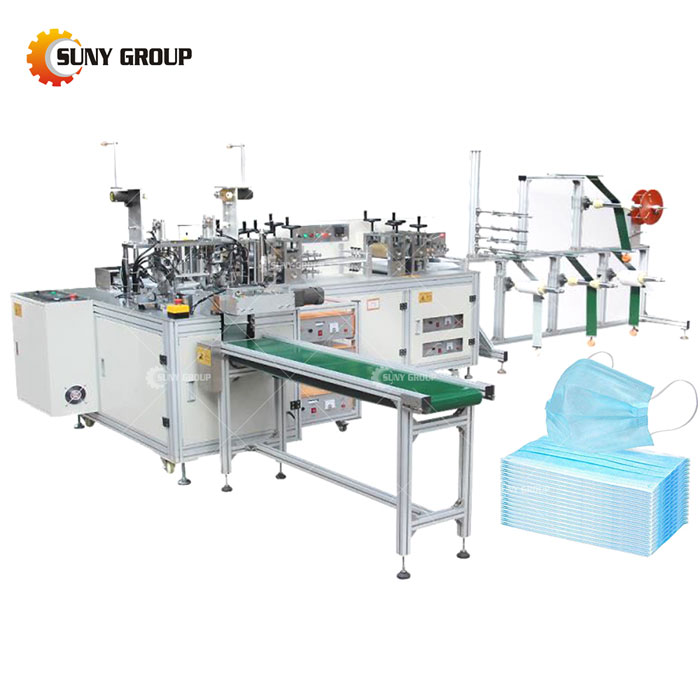 Fully Automatic Mask Making Machine 1+1
1. It is necessary to do a good job of ventilation, drying and cleaning of the working environment. A clean environment is helpful to the long-term operation and optimization of the flat face mask machine.
2. The electrical control box and equipment vents should be kept away from water sources. At the same time, dust and corrosive chemicals are required to clean the dust in the compressed air system regularly.
3. Regularly check the insulation performance of the wire and circuit. The electronic components that are prone to aging should be checked frequently to see if the circuit is firmly connected and the grounding device is reliable.
4. Regularly check the power supply voltage and current to confirm that the current and voltage meet the requirements of the equipment, and avoid the normal operation of the equipment due to the unstable voltage.
5. The first thing is to do a good job of lubricating the transmission system. When it is found that the quality of the lubricating oil of the gear reducer is significantly reduced, it is necessary to replace the new lubricating oil in time.
6. Clean the ultrasonic welding head and bottom mold regularly. The working materials also need to be kept clean. It is recommended to check whether the connector is firmly connected once a week, and wipe the appearance of the equipment frequently, but liquids cannot be used for wiping. The traces are more obvious, you can use a cloth dipped in some alcohol to wipe.
The daily maintenance of the flat face mask machine is introduced here. Although most of the maintenance content is trivial, it is of great help to prolong the service life of the equipment.
Tags: