What are the classification and principles and functions of Cable Wire Recycling Machine?
Time:2020-01-02 15:00 Author:Suny Group
Although Cable Wire Recycling Machine have their own structures and styles. But in general, Cable Wire Recycling Machine can be divided into: 1. Dry type Cable Wire Recycling Machine. 2. Wet type copper rice machine. What are the classification and principles and functions of Cable Wire Recycling Machine?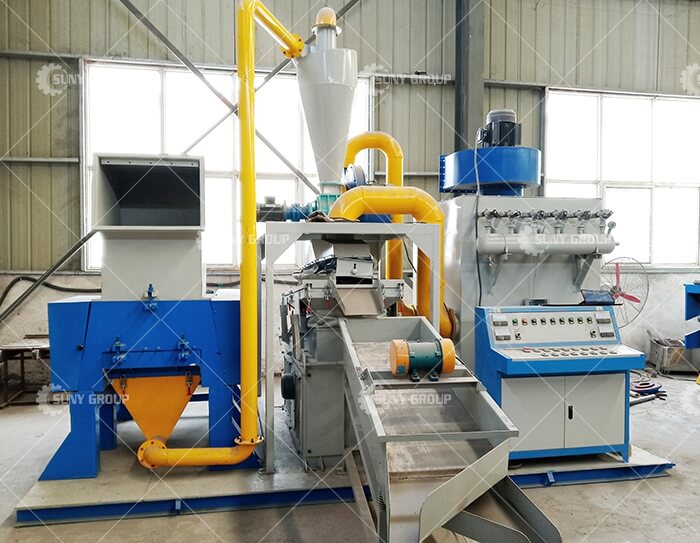 Dry type copper rice machine refers to the copper rice machine in the sorting process without adding water. This type of copper rice machine mainly uses airflow sorting machines, or more environmentally friendly methods such as air shakers or electrostatic sorting to sort. The main process is: crushing-air separation-(static separation)-dust collection.
Under the action of wind force, two kinds of materials with different densities pass through a certain angle of the sieve surface, and the deflection caused by the amplitude movement causes the high-density copper wire to advance against the sieve facing the copper outlet, and the low-density plastic skin floats on The copper wire flows to the exit. So as to achieve the purpose of copper-plastic separation.

It can be fed at one time, and after the crushing process, the conveying operation is transferred, and the dry separation is performed. It can efficiently separate copper and plastic and achieve the purpose of comprehensive utilization. No dust and no secondary pollution. It has high recycling economic benefits and high-speed copper-plastic recycling processing methods.
Because the wet copper rice machine uses water in the production process, this method generally causes a small amount of secondary pollution to the environment.
The main indicators of the copper rice machine are the purity of copper rice, the amount of copper remaining in the plastic skin, power consumption, environmental protection and production costs.
Tags:
If you have any requirement or suggestion, please fill in the form and send to us, or contact us by E-mail:sunymachine@gmail.com,thanks!