Detailed airflow specific gravity sorting equipment
Time:2020-02-13 14:04 Author:Suny Group
Airflow specific gravity sorting equipment: As the name suggests, it is a device that sorts and collects different materials through different air adsorption capabilities and density differences.
Unlike high-voltage electrostatic sorting, the equipment contains high-intensity current, which poses a great threat to the body of the staff. However, our company's electrostatic sorting equipment has a unique discharge system designed to effectively avoid electric shocks.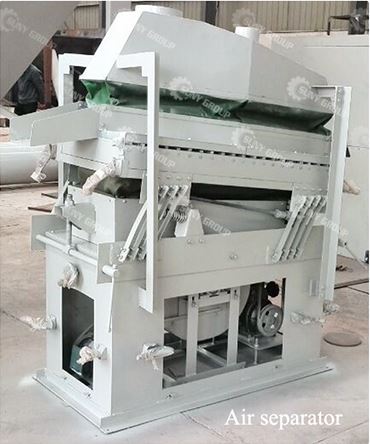 And our air-flow specific gravity sorting machine is based on the density difference of the mixed materials; the particle size and shape of the same material are separated. This equipment enables the incoming materials to separate various mixed materials according to the different adsorption capacity to wind. Sheet materials with small specific gravity, small granularity, and large wind-receiving area are discharged from the machine at one end of the discharge port, and large, large-grained, small-wind-receiving area is discharged from the other end of the machine.
Our air-flow specific gravity sorting equipment has the characteristics of stable performance, high efficiency, low energy consumption, small footprint, low noise, low environmental impact, and wide application range. It is the main sorting equipment for copper wire recycling machine to separate copper wire and plastic. Not only that, this equipment is suitable for all kinds of metals and non-metals, powder materials, granular materials, mixed materials, according to their specific gravity, particle size, or shape to separate and sort. It is used in many industries such as beneficiation, chemical industry, and waste recycling.
If you need equipment similar to waste wires and cable recycling, you may pick up your mobile phone and contact us, or leave your contact information. As long as you take a step, we will definitely surprise you.
Tags:
If you have any requirement or suggestion, please fill in the form and send to us, or contact us by E-mail:sunymachine@gmail.com,thanks!