The application scope and introduction of dry Cable Wire Recycling Machine
Time:2020-05-20 12:25 Author:Suny Group
Introduction of dry Cable Wire Recycling Machine: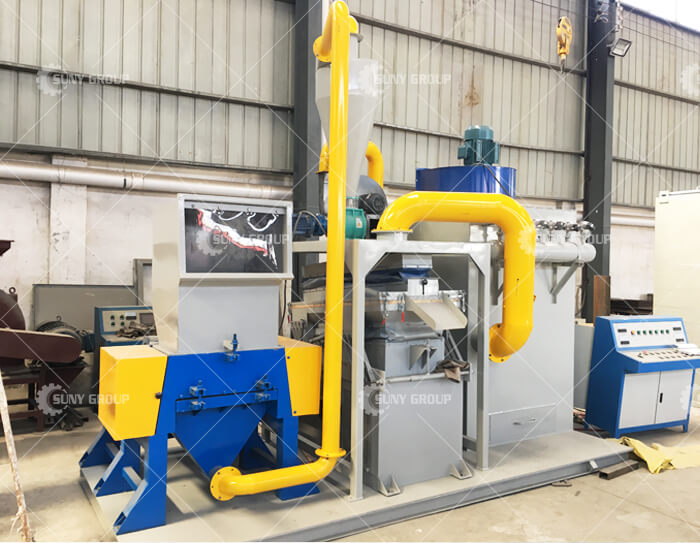 Scope and function of dry Cable Wire Recycling Machine: It is aimed at various car circuit lines, motorcycle lines, battery car lines, TV sets, washing machines, refrigerators, air conditioners and other household appliance lines, communication lines, computer lines and other various stripping machines Various waste lines not suitable for processing. The overall structure of the machine, the customer can be produced after receiving power. Fully automatic crushing, feeding, vacuuming and separating. It can be produced by only one person feeding, advanced dust collection device, dry separation, and the separated products can be sold directly. This model is the most advanced waste line separation equipment in China.
Application scope of dry Cable Wire Recycling Machine:
Scope and function: The integral dry powder Cable Wire Recycling Machine is aimed at various automotive circuit lines, communication optical cables and various waste and miscellaneous wires that are not suitable for processing by wire stripping machines. Hair filaments, etc. This machine is characterized by large and small wires It can be powdered at the same time without washing, and it is not washed with water. The copper-plastic separation reaches 100%, no dust and no staining. In addition, the overall structure of the equipment is easy to transport. Installation. Commissioning [customers can be produced after connecting to the power supply]. Good stability. High output, The successful research and development of the machine solved the environmental pollution caused by incineration and copper extraction, and could improve the quality of recycled copper, and can recycle plastics to achieve the purpose of comprehensive utilization.
Features of dry Cable Wire Recycling Machine:
1: Cabinet-type centralized control system: star triangle starting cabinet,
2 .: Motor dynamic thermal protection device,
3: Delay start protection function. Convenient operation, can be fed at one time, after crushing, conveying operation transfer, dry separation.
4: Copper and plastic can be completely separated, and the purpose of comprehensive utilization can be achieved. No dust and no secondary pollution. And it has high recycling economic benefits and a high-speed copper plastic recycling treatment method.
Tags:
If you have any requirement or suggestion, please fill in the form and send to us, or contact us by E-mail:sunymachine@gmail.com,thanks!