Introduction of special meltblown cloth for masks
Time:2020-05-26 11:30 Author:Suny Group
Meltblown cloth is the core material of masks. Meltblown cloth mainly uses polypropylene as the main raw material, and the fiber diameter can reach 1 to 5 microns. The dispersion is more, the structure is fluffy, and the anti-wrinkle ability is good. The ultra-fine fibers with unique capillary structure can increase the fields of air, liquid filtration materials, insulation materials, absorption materials, mask materials, thermal insulation materials, oil-absorbing materials and wiping cloths.
Medical masks and N95 masks are composed of a spunbond layer, a meltblown layer and a spunbond layer, where the spunbond layer and the meltblown layer are composed of polypropylene material.
Weight: 18g-500g Width: generally 160cm and 180cm (can also be determined according to customer needs) melt-blown cloth is to use a high-speed hot air flow to draw a thin stream of polymer melt extruded from the die orifice, In this way, ultrafine fibers are formed and collected on the condensed screen or roller at the same time, and at the same time, they are combined with each other to become a melt-blown nonwoven fabric.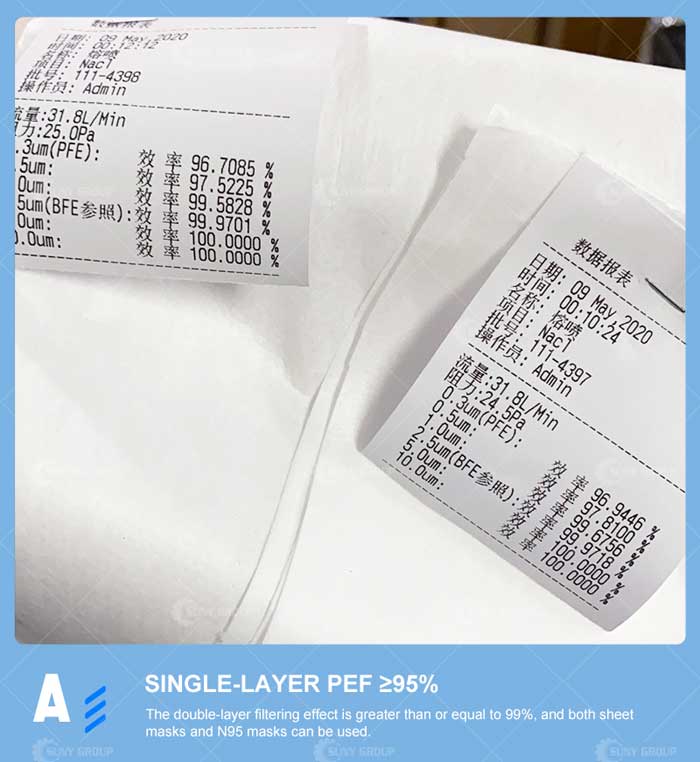 The production process of melt-blown cloth is mainly as follows:
1. Melt preparation
2. Filter
3. Measurement
4. The melt expands from the spinneret
5. Melt flow drafting and cooling
6. Netting
Tags:
If you have any requirement or suggestion, please fill in the form and send to us, or contact us by E-mail:sunymachine@gmail.com,thanks!