The working principle of mask spot welding machine
Time:2020-07-09 11:33 Author:Suny Group
The outer earband mask spot welding machine uses an ultrasonic method to weld the elastic band on both sides of the mask body to complete the finished earband mask. Only one operator needs to place a mask on the conveyor belt fixture. After the completion of the finished product, other subsequent operations are automatically performed by the machine. The output of this machine is higher than that of ordinary belt conveyors.
Product aliases: plane mask machine, automatic mask spot welding machine, ultrasonic mask machine, plane mask spot welding machine, disposable mask machine, non-woven mask machine, earband mask machine, N95 mask machine, FFP2 mask machine, etc.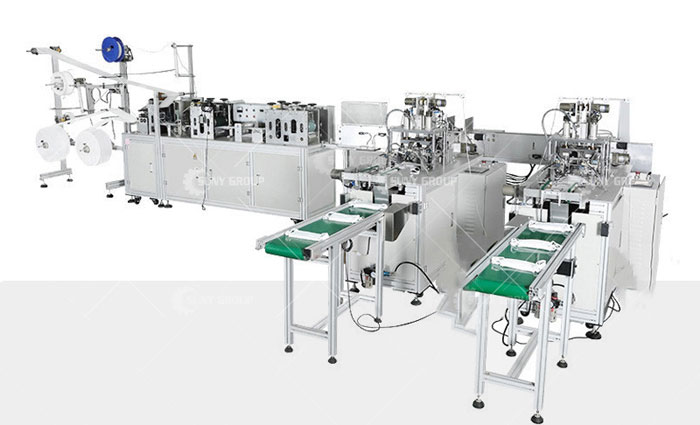 Ultrasonic outer ear mask machine parameters:
Product model: NK umm032, machine size: 2646 (length) × 620 (width) × 1750 (height) m/m3, voltage: single-phase 220v4, output: 45-55pcs/min5, air pressure: 6kg/cm2 6, power consumption : 3kw7, the size of the mask body must be fixed
Ultrasonic outer ear mask machine features:
One. The machine is compact in structure, small in size and does not occupy space;
Two. PLC program control, high stability, low failure rate;
Three. The whole machine adopts aluminum alloy structure, beautiful, strong and rust-free;
Four. Photoelectric detection reduces bit error rate
Five. The welding strength of the ear strap is adjustable.
Ultrasonic outer ear mask machine working process:
Working process: (face mask body) manual feeding → automatic ear strap feeding → ear strap cutting → ultrasonic ear strap welding → finished product output → counting → finished product stacking → conveyor belt device feeding.
Tags:
If you have any requirement or suggestion, please fill in the form and send to us, or contact us by E-mail:sunymachine@gmail.com,thanks!