copper wire separator machine
Time:2020-07-21 15:14 Author:Suny Group
Copper wire separator, also known as copper rice machine, is a wire recycling equipment. This equipment is mainly composed of crushing equipment, conveying equipment, screening equipment, and dust removal equipment. There are also some auxiliary equipment: iron remover, vibrating screen, knife sharpener, etc.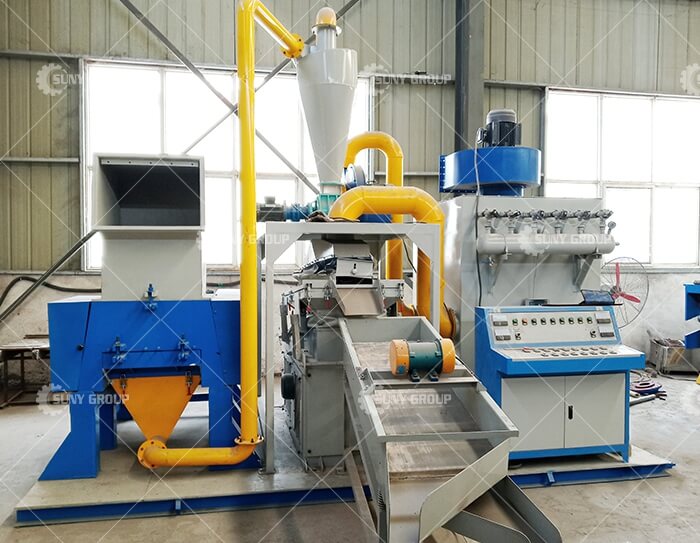 Among the more common crushing equipment are: wire shredder, wire crusher.
Conveying equipment includes belt conveyors, wind conveyors, and screw conveyors.
Dust removal equipment includes bag filter and pulse filter.
The screening equipment includes air sorter, water sorter, and electrostatic sorter.
With so many equipment, how to choose the most suitable one? The best way is to choose according to the raw materials.
If your raw material is a large number of large groups of waste wires, then there is a wire shredder that can help shred the large groups of wires into small pieces of uniform size, which can save the manpower for selecting wires and provide more for subsequent processing. Great convenience.
If you expect to process no more than 5 tons of raw materials per day, then a fully automatic dry copper rice machine with integrated design can fully meet your needs.
If you need to process a lot of raw materials every day, you may need more equipment. A reasonably designed production line can not only save your labor, but also help you increase production and increase the recycling rate of wires.
If your raw materials are mixed with a lot of iron materials, don't forget to add an iron remover.
Of course, if you need continuous production, then bringing a knife sharpener by yourself can save you the trouble of finding a knife sharpening site and effectively ensure your processing efficiency.
Tags:
If you have any requirement or suggestion, please fill in the form and send to us, or contact us by E-mail:sunymachine@gmail.com,thanks!