Waste radiator copper and aluminum water tank recycling treatment to achieve the best use
Time:2019-12-16 10:41 Author:Suny Group
Recycling and disposal of waste copper and aluminum water tanks is a very good way to save resources and protect the environment. In order to protect the environment and energy of the earth, it is necessary to carry out the recovery and treatment of waste copper and aluminum water tanks. For its use, during the recycling process of waste air-conditioning radiators, dry-type copper-aluminum water tank crushing and sorting equipment is required to perform a recycling system to ensure that copper-aluminum renewable resources are not lost. Dry-type copper-aluminum water tank processing equipment capable of processing waste copper-aluminum radiators becomes It indicates the direction of market development.

Dry crusher, strong magnetic roller sorting and air flow sorting machine are used to crush and sort waste fins. The waste heat sinks that are difficult to disassemble manually or that require excessive labor costs are processed by professional equipment to obtain renewable resources. The entire process is performed in negative pressure. The equipment first manually feeds in advance and takes out hard materials such as large iron or screws with large diameters and shafts. It then enters a crushing host for coarse crushing, and then enters a secondary crushing host for fine crushing to allow its aluminum, iron sheet, copper, etc. to fall off, and then the aluminum, iron, and copper are separated by strong magnetic rollers and air flow separators. During the crushing and sorting process, a pulse dust removal system is configured to effectively solve the dust emission.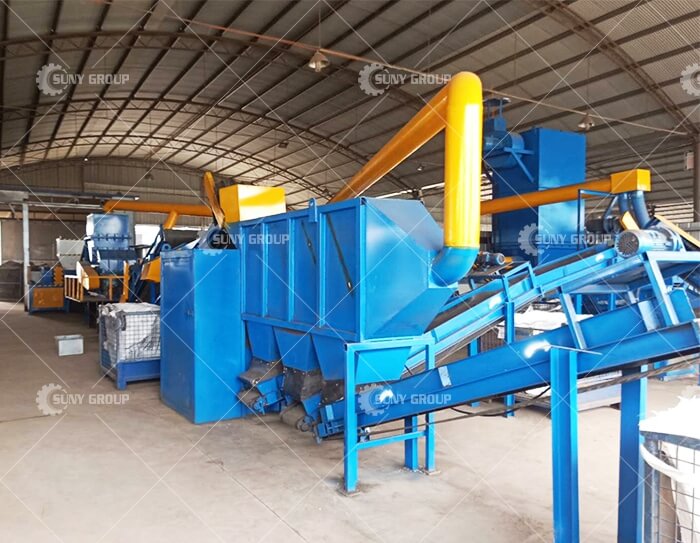 The copper-aluminum water tank radiator after disassembly of the car, and the copper-aluminum radiator after disassembly of the air conditioner, recycle and decompose and separate the aluminum foil and copper pipe. Copper and aluminum water tank crushing and sorting machine equipment is mainly used in waste copper and aluminum radiator recycling and treatment, waste metal processing centers, steel plant affiliates, professional scrap processing and distribution companies, scrap metal recycling companies and major dismantling companies!
Tags:
If you have any requirement or suggestion, please fill in the form and send to us, or contact us by E-mail:sunymachine@gmail.com,thanks!