The advantages of choosing a bag filter in the circuit board recycling equipment production line
Time:2020-09-24 11:18 Author:Suny Group
Industrial dust removal equipment is equipment for dust removal and purification of industrial gases, and it is an important part of environmental protection equipment. According to the different dust removal mechanism and function of dust removal equipment, its use effect is also different. Circuit board recycling equipment will also generate a certain amount of dust in production due to the production process. Therefore, dust removal equipment is also needed to ensure the green and environmental protection of the entire production process of circuit board recycling equipment. In the treatment of industrial dust and waste gas, our commonly used equipment is a bag filter, which has high efficiency and strong applicability and has been favored by users. The dust collector is used in the circuit board recycling equipment production line produced by SUNY GROUP, so what are the advantages of choosing a bag filter?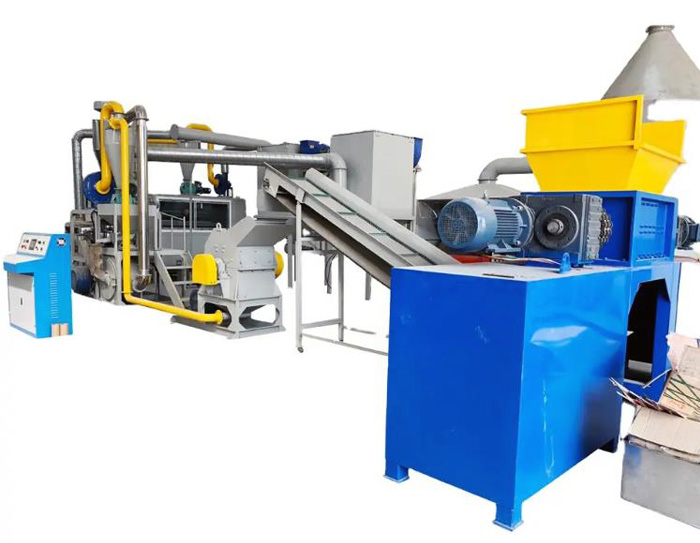 1. High dust removal efficiency: The bag type dust removal equipment has a wide range of recyclable particle sizes and has a high collection efficiency, especially for fine dust, even 0.01um particles can be collected. It has a high recovery efficiency for the dust generated after the circuit board recovery equipment is broken. Its efficiency for particles above 1um is 98% or more, generally up to 99%. If the design is reasonable, pay attention to maintenance and management, and the dust removal efficiency can reach 99.9% or more. .
2. Strong adaptability: it uses different filter cloth materials and dust removal methods, which can capture dust of different properties. When the dust concentration of the gas to be processed changes greatly, it will not cause significant changes in the efficiency and pressure of the dust collector, which is more suitable for the stability of the circuit board recycling equipment.
3. Large operating flexibility. The air volume handled by a single device can range from tens of cubic meters to hundreds of thousands of cubic meters per hour. The filter bag can be placed next to the shredding system of the circuit board recycling equipment, or it can be placed in a separate room, the so-called "bag house".
4. Stable work, easy maintenance, low energy consumption, which can reduce the production energy consumption and subsequent maintenance of the circuit board recycling equipment.
5. It is easy to recycle solid dry materials without sludge treatment and equipment corrosion problems.
Tags:
If you have any requirement or suggestion, please fill in the form and send to us, or contact us by E-mail:sunymachine@gmail.com,thanks!