N95 fully automatic mask machine is newly launched
Time:2020-07-24 10:45 Author:Suny Group
The N95 automatic mask machine is a machine used to automatically produce multi-layer flat mask products. It can use 1~4 layers of N95PP spunbonded non-woven activated carbon and filter materials. The whole machine is from raw material feeding to nose line insertion. Edge banding and cutting finished products are all automated operations in one line. The flat mask production equipment has stable performance, high output, low defect rate and easy operation. The mask body machine plus several inner ear mask machines, outer ear mask machines, band-type mask machines or ear band spot welding machines can produce various masks such as inner ear masks, outer ear masks, and banded masks.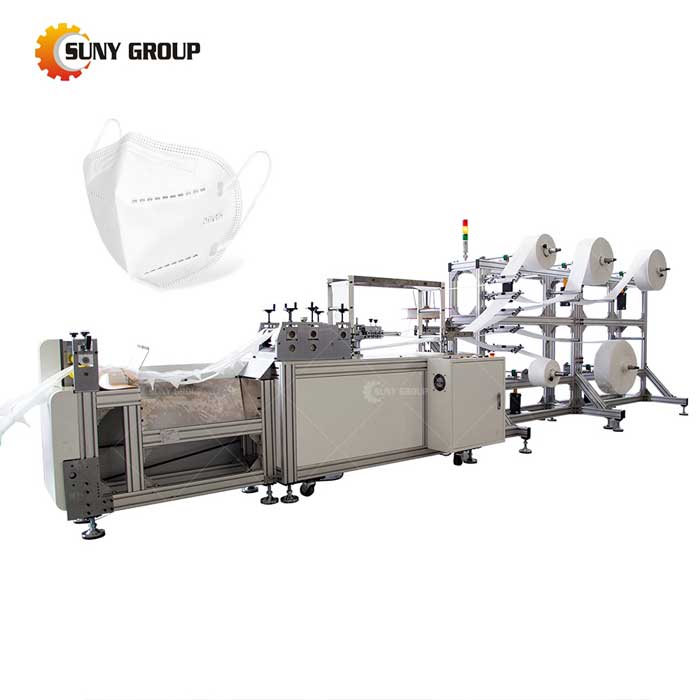 Features of N95 mask machine:
1. The frame is made of aluminum alloy and bright chrome steel, and the appearance is light and beautiful.
2. Automatic counting can effectively control production efficiency and production progress.
3. PLC control system, touch screen setting, simple and quick operation, stable and reliable operation
4. Pull the tube to feed the material, the positioning is more accurate, the width of the raw material can be controlled to the minimum, and the cost is saved.
5. The length and dimension of the finished product are uniformly controlled with a deviation of ±1mm, which can effectively control the length of the finished product.
6. The equipment has a high degree of automation and low requirements on the operating staff. It only needs to discharge the materials and arrange the finished products.
7. The automatic ultrasonic welding wheel is made of imported alloy steel Cr12, which prolongs the life of the mold and is wear-resistant and durable.
8. The independent nose line delivery group is convenient for adjustment and maintenance; after the nose line is inserted, the positioning point is positioned to effectively ensure the accuracy of the nose line position and the stability of the nose line.
Tags:
If you have any requirement or suggestion, please fill in the form and send to us, or contact us by E-mail:sunymachine@gmail.com,thanks!