Features and process flow of dry Cable Wire Recycling Machine
Time:2020-08-31 12:09 Author:Suny Group
Features of dry Cable Wire Recycling Machine: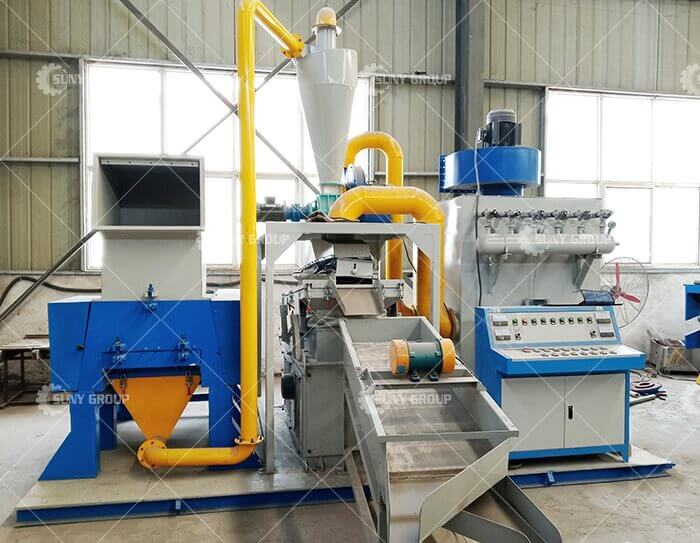 1. Compact structure, beautiful appearance, reasonable layout and convenient installation.
2. The waste wire and cable reuse treatment equipment adopts PLC control to make the equipment evenly fed, intelligent operation, and automatic alarm function, which makes the operation easier, saves time and effort, and ensures the stable operation of the equipment.
3. The shredder adopts a high-hardness spindle, which makes the crusher more impactful when it is loaded. Its working principle adopts a tear-off type, which is composed of a micro cutter head and a cylindrical cutter bar, which greatly reduces the investment of wearing parts (tools).
4. The pulverizer, sorting equipment and dust collection equipment adopt a combined platform, which makes the equipment easy to move and transport, and increases the flexibility of the equipment.
5. The pulverizer rotor adopts alternating knife shafts, which makes the pulverizer more efficient, lower noise and more stable.
6. The waste wire and cable recycling treatment equipment adopts the combination of air sorting equipment and high-voltage electrostatic equipment, so that the sorting rate is as high as 99%.
7. The material return system enables the secondary crushing of semi-finished products, ensuring the complete separation of metal and non-metal.
8. Bag dust collection equipment can effectively control dust overflow, and the dust removal efficiency can reach 99%. Fully meet environmental protection requirements. No secondary pollution.
9. The wearing parts, blades and screens are made of special wear-resistant and high-toughness alloy materials, which increase the service life and reduce production costs.
Cable Wire Recycling Machine process:
Cable Wire Recycling Machine (waste wire and cable processing equipment): The shredder is used to crush the material into about 3cm in length, and then through the secondary crusher shearing crushing, and then separated by high-precision airflow sorting to obtain plastic and copper , The undivided plastic is then sorted by an electrostatic sorter to ensure the recycling rate of copper. The equipment has a new and unique structure, large production volume and low power consumption. The sorting rate is high, and it can be completed by multiple machines in one feeding. The whole line is controlled by PLC. It can also improve the quality of recycled copper, and can reuse plastics while avoiding environmental pollution problems.
Tags:
If you have any requirement or suggestion, please fill in the form and send to us, or contact us by E-mail:sunymachine@gmail.com,thanks!