Circuit board crushing equipment for fine dismantling and recycling of circuit boards
Time:2020-10-20 11:31 Author:Suny Group
Circuit boards are the core part of electronic waste. A huge amount of waste circuit boards are generated every year, and typical circuit boards contain about 30% of metal. Randomly collect discarded computers, mobile phones, hard disks, industrial controllers, etc. on the market from different brands and models and production years for rough disassembly. Circuit board crushing equipment performs fine disassembly and recycling of circuit boards, and compares and analyzes the removed components, circuit boards and components. On the metal content and its potential resource value, it is found that the metal types and content of different circuit boards are significantly different. The resource value of waste industrial controllers and hard disk circuit boards is much greater than that of computers and mobile phones, especially the precious metal with high gold content and high value 800,000 yuan/t, the content of common metals, especially copper, is huge, up to 20kg/t, which are concentrated on the circuit boards where the components are removed.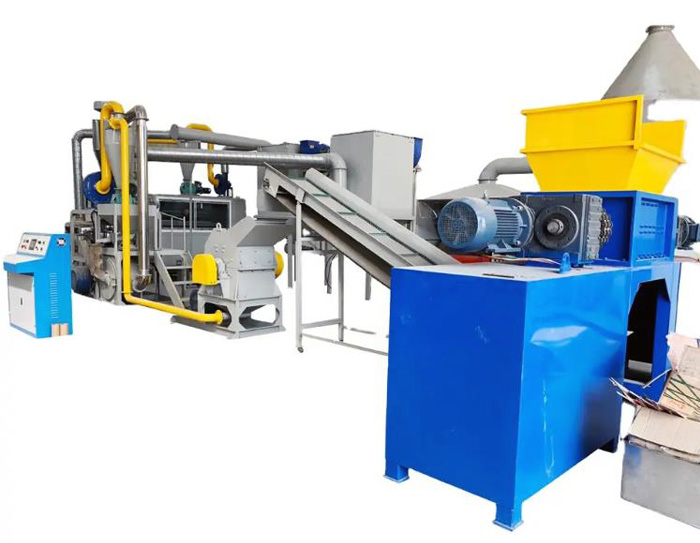 The circuit board crushing and recycling equipment has a high degree of automation, which replaces personnel, saves human resources, has the functions of automatic disassembly and automatic dust removal, and shortens the disassembly time. The equipment has a compact structure, a small footprint, and is effective Control the environmental pollution and promote the recycling of resources. The circuit board crushing and recycling equipment adopts dry crushing and smashing, so that the waste circuit board becomes a mixture of metal and resin fiber powder, and then the metal and resin are separated by a wind pressure separator. Equipment advantages, low noise, no water, no dust pollution, power saving, labor saving, no waste, more than 95% of metal and non-metal are fully recycled. In order to prevent dust pollution during processing, the circuit board crushing and recycling equipment adopts a three-in-one dust removal device. The dust removal device has three levels of dust removal: cyclone dust removal and two-stage bag dust removal, which effectively solves the problem of dust pollution, and all indicators have reached the national level. standard.
We SUNY GROUP is a manufacturer specializing in the production of environmental protection machinery. We not only value its cost performance, but also pay more attention to the performance ratio of equipment. It not only reduces the pollution of the social environment, but also promotes the development of the green industry. The problem of e-waste is not impossible to solve. As long as e-waste is allowed to "come from technology to technology", it can turn waste into treasure and produce good economic and social benefits. Want to know more, welcome everyone to visit our company for on-site inspection!
Tags:
If you have any requirement or suggestion, please fill in the form and send to us, or contact us by E-mail:sunymachine@gmail.com,thanks!