Why are the application fields of waste tire processing equipment more and more extensive
Time:2020-10-21 10:46 Author:Suny Group
Waste rubber, rubber belts, waste tires, waste conveyor belts and other materials are processed through the Gongyi Ruisec waste tire processing equipment system. The materials are turned from these garbage into treasures, and become 1-6mm rubber particles or 10-40. Purpose Rubber powder, or steel wire, these materials can be reused in the application of roads, reclaimed rubber, modified asphalt, rubber runways, floor tiles and floor mats, to achieve ecological benefits, social benefits, economic benefits and other win-win goals .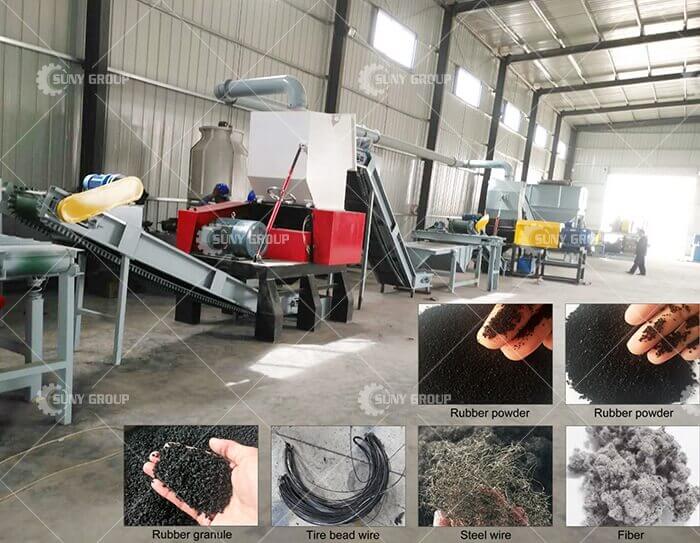 Using the investment in waste tire processing equipment to make money, SUNY GROUP has improved its technology and production capacity time after time. Now it has optimized and strengthened its design. The waste tire recycling equipment line has higher strength, better performance and more compact structure. And it plays an important role in the secondary recovery of resources.
The high utilization rate of reusing waste tires on-site is also the reason why the application fields of waste tire treatment equipment are becoming wider and wider. According to the standards of production capacity and the different needs of the finished products, our company has launched semi-automatic waste tire treatment equipment. For the process selection of automatic waste tire processing equipment, the complete set of equipment can be configured into different combinations according to requirements to meet the requirements of corresponding process requirements and production scale.
Tags:
If you have any requirement or suggestion, please fill in the form and send to us, or contact us by E-mail:sunymachine@gmail.com,thanks!