Air conditioning water tank copper and aluminum separator
Time:2021-01-25 16:16 Author:Suny Group
The copper-aluminum water tank separator produced by Shibang Machinery is used to automatically crush air-conditioning and radiator water tanks to separate copper and aluminum. It is used to process automobile water tanks, radiators, copper-aluminum radiators, automobile radiators, automobile air conditioning pipes, and air conditioners. Pipes, etc., effectively recycle waste copper and aluminum metal resources. The automatic copper and aluminum water tank separator can process 3-5 tons of waste water tank radiators in one hour.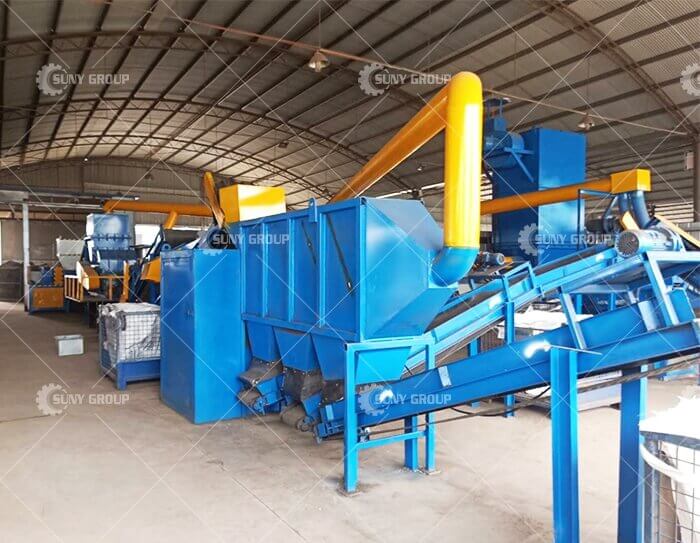 The new structure process of the copper-aluminum water tank separator. The body adopts a reinforced structure of extra-thick steel plate and diagonal braces to ensure that the equipment meets overload operation; the liner and hammer are processed by heat treatment, which naturally eliminates the stress, the chemical composition is more stable, and the service life Increase by more than 30%; the material pressing device pre-compresses the material, expands the feeding range and improves the production efficiency. The size of the crushed copper-aluminum water tank separator is different and the separation method used is different. The copper and aluminum materials produced by it have uniform particle size and bright color.
Function object: car water tank
Application areas: waste car water tanks, air conditioning radiators, copper and aluminum crushing and recycling
Feeding size: 1100x1000 (mm)
Discharge size: ≤200(mm)
Production capacity: 5000-10000 (kg)
Power consumption: 200-315(kw)
Weight: 19000 (kg)
Motor power: 200-315(kw)
Degree of crushing: Medium crusher
Drive mode: motor
Feeding side length: 1100 (mm)
Tags:
If you have any requirement or suggestion, please fill in the form and send to us, or contact us by E-mail:sunymachine@gmail.com,thanks!