Waste medical board crushing, sorting and recycling equipment
Time:2021-02-26 10:30 Author:Suny Group
Waste aluminum and plastics and waste aluminum foil plastics first come from cigarette factories, aluminum foil paper factories, capacitor factories, cable factories, pharmaceutical factories, food and beverage factories and other aluminum foil packaging industries. According to statistics, there are domestic enterprises that produce and use aluminum foil. Thousands, of which only the pharmaceutical factory nationwide has tens of thousands of tons of aluminum-plastic panels scrapped annually.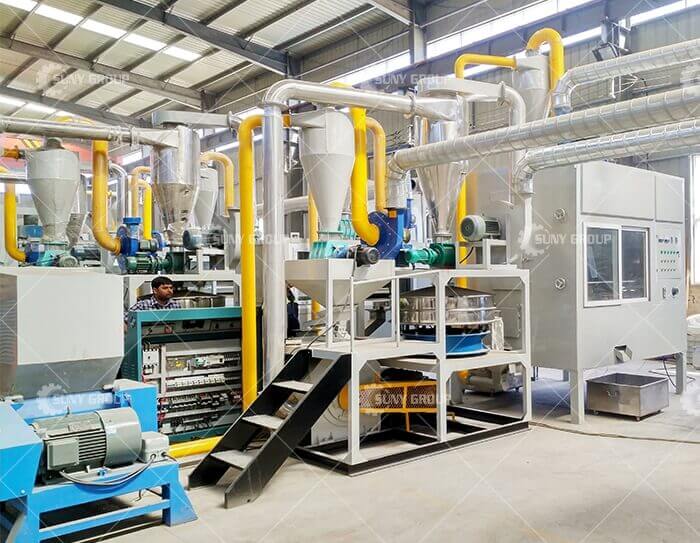 After the waste aluminum foil and waste aluminum foil plastic enter the factory, they undergo manual preliminary selection, mechanical crushing, chemical treatment, mechanical separation, and selection. The aluminum foil and paper, aluminum foil and plastic are completely separated, and they are dried and packaged before leaving the factory.
The recycled aluminum foil can be used to smelt aluminum ingots, and it is also the top raw material for silver powder factories, fireworks factories, aluminum factories, and building materials (smelting aluminum lakes). According to our investigation, this product is currently in short supply and has a huge market potential; PVC plastic can be pressed into tablets, Pipes are made for packaging and water pipelines. Pulp is then made into paper, and PE plastic can be used for material or oil refining.
Tags:
If you have any requirement or suggestion, please fill in the form and send to us, or contact us by E-mail:sunymachine@gmail.com,thanks!