Is the copper output rate high when the dry-type cable wire recycling machine processes waste wires and cables?
Time:2021-03-08 10:37 Author:Suny Group
The cable wire recycling machine is a machine used to crush waste wires and cables and separate copper and plastic. Because the separated copper is like rice grains, it is called a cable wire recycling machine.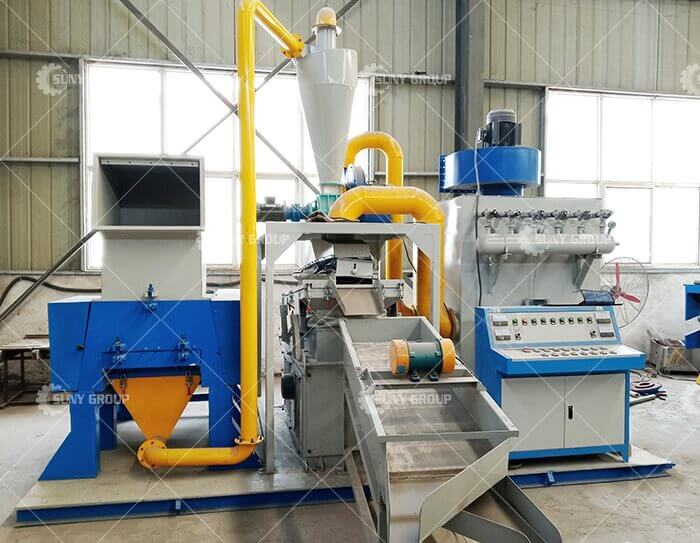 Dry cable wire recycling machine is mainly used for all kinds of wires and cables, household appliances wires, communication wires, computer wires and other miscellaneous wires that are not suitable for processing by stripping machines. It can be broken at the same time without classification. After crushing and crushing, high-voltage electrostatic separation is complete. Separate copper and plastic, and achieve the purpose of comprehensive utilization, with higher economic benefits, and no dust and no secondary pollution.
The prices of cable wire recycling machines of different models and output are different, and the prices of machines of different quality are also much different. But now that the interconnection is so developed, I believe that you can find multiple manufacturers. It is easy to know the price. Choose a cost-effective one. cable wire recycling machine is the key. The dry-type cable wire recycling machine already has a very mature technology in China, but the industry market is mixed. You must shop around when buying a cable wire recycling machine. Don't try it cheaply. You must go to the factory to test the machine on the spot, so that it can be better. Understand the machine's performance, output, and the strength of the manufacturer. In addition, according to the type of wire, the wire diameter is different, and the equipment configuration is different, so it is safer to bring your own raw materials to test the machine.
Dry-type copper metering machine is a relatively advanced technology for processing waste cables. No matter how good the quality of the copper metering machine is, problems may occur due to improper operation and improper maintenance when working for a long time. Maintenance, this kind of time requires a good after-sales service. Therefore, after-sales service of manufacturers is also very important.
Tags:
If you have any requirement or suggestion, please fill in the form and send to us, or contact us by E-mail:sunymachine@gmail.com,thanks!