India copper wire recycling machine Price
Time:2021-03-09 10:06 Author:Suny Group
How much is a set of copper rice machine production line equipment? Starting from more than 40,000 to more than 100,000, depending on the equipment configuration, production capacity can be a variety of factors, SUNY GROUP machinery online selection for you, real-time quotation, welcome to consult.
The increasing popularity of wire bonding technology has injected fresh blood into the waste wire and cable industry. Therefore, more equipment has added new functions and technologies, and has improved its performance and productivity. Today, I will focus on introducing a new type of equipment— —Dry-type copper rice machine, which can punch waste wires and cables out of copper meters without water and pollution, and enter the field. It can punch all kinds of miscellaneous wires and waste wires to achieve mobile operation. Such an extraordinary function, you will not come Onlookers?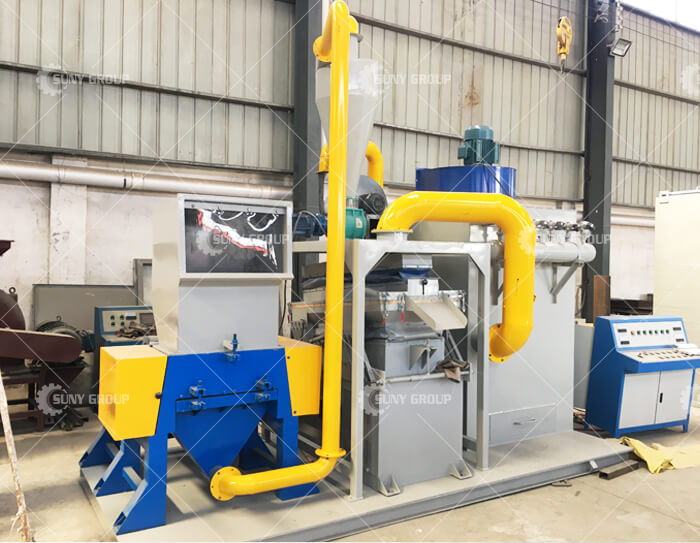 The 600-type dry copper rice machine and miscellaneous wire crushing separator are mature equipment for processing waste wires. The whole process is mechanically separated, no water, smoke emission, and no dust pollution. It is an environmentally friendly recycling equipment. The appearance of the copper rice machine has gradually become a particularly valued equipment for investors in the market. The copper rice machine not only has outstanding separation effect, but is also energy-saving and environmentally friendly. It is developed and produced by thick steel plate, so it extends the service life of the equipment. This equipment, regardless of waste wires, Waste cables, waste headphone cables, waste car cables and other waste wires can be separated from copper and plastic, which undoubtedly strengthens customers' profit margins and protects environmental pollution.
After 2020, the price of copper has been soaring. The recycling and processing of automobile wires, electric vehicle wires, motorcycle wires, communication wires, electronic wires, home appliance dismantling wires and other wires and cables make profits using automatic dry copper rice machines and miscellaneous wire copper rice machines. The big market prospects are good. The copper rice machine equipment is a relatively mature equipment. It crushes the waste wires and cables we use for a long time through a series of processes to obtain pure copper metal and plastics. This is the so-called environmentally friendly copper. Rice machine equipment.
SUNY GROUP's dry-type copper rice machine has complete equipment models, and multiple production advantages make production easier, more flexible, and smarter, improve production efficiency, and bring higher economic benefits. It is worthy of your trust and choice. If you want to know more equipment information, you can consult "online chat" for free, SUNY GROUP Machinery will serve you wholeheartedly.
Tags:
If you have any requirement or suggestion, please fill in the form and send to us, or contact us by E-mail:sunymachine@gmail.com,thanks!