Mask production equipment and production process
Time:2021-04-02 10:19 Author:Suny Group
The mask machine is a multi-layer non-woven fabric manufactured through multiple processes such as hot pressing, folding forming, ultrasonic welding, waste discharge, and ear-nose beam welding. Mask equipment is not a machine, it needs the cooperation of multiple machines to complete various processes.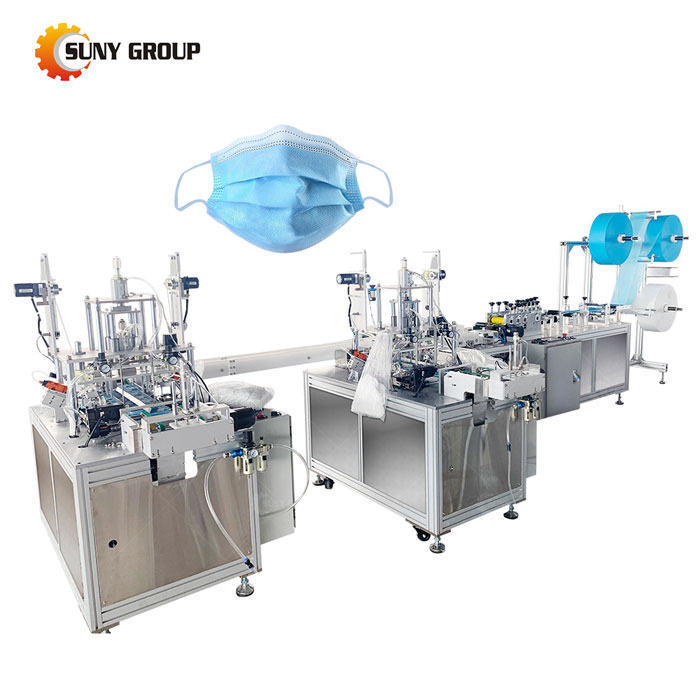 2. Classification of mask machines
Mask machines on the market include: HD-0301 flat mask machine, HD-0304 mask machine, duckbill mask machine, folding mask machine, gauze mask machine, etc.
According to the welding method and use method of the ear straps, the mask machine series can be divided into: inner ear mask machine, outer ear mask machine, and tie mask machine. The production of these three types of masks requires the use of mask machines.
3. Mask production process
There are many production processes for the entire mask, especially the follow-up disinfection process. First, we must understand the production process of the mask from the structure of the mask itself. We cut off a medical mask and we can find that the mask is a three-layer non-woven fabric. This is also the national medical treatment. The mask standard requires, otherwise, it does not meet the protection requirements.
The raw material fiber for making masks is polypropylene, and medical masks are generally called SMS structures. Among them, the spunbond layer is a single layer, and the meltblown layer is divided into a single layer or multiple layers according to filtration requirements. Meltblown cloth, commonly known as the mask core, is the middle filter layer of the mask. It has good filtering, shielding, heat insulation and oil absorption properties, and is an important raw material for the production of masks.
The special material of polypropylene high melting point non-woven fabric has become the best choice for the production of masks. It can also be used for medical supplies such as disposable surgical clothing, bed sheets, lids, and absorbent pads.
As the supply of raw materials increases, the process of manufacturing masks becomes less complicated:
Production process of flat mask
1) The raw materials of the three-layer non-woven fabric are superimposed by the machine.
2) Curl the edge and sew the nose into
Tags:
If you have any requirement or suggestion, please fill in the form and send to us, or contact us by E-mail:sunymachine@gmail.com,thanks!