How are wet wipes made?
Time:2021-05-06 16:23 Author:Suny Group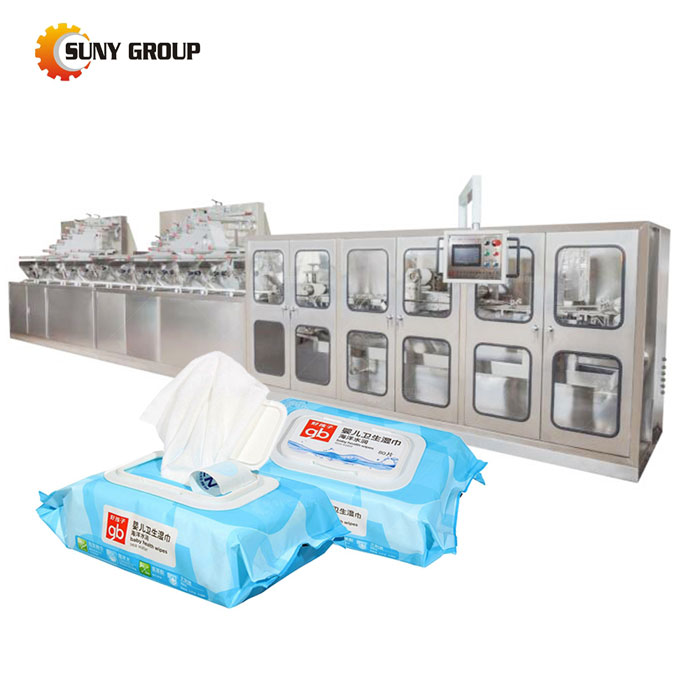 Portable Wet Wipes Making Machine
Follow the steps below to make:
First: The material of wet wipes is generally selected high-quality spunlace non-woven fabric, which is made of fiber and viscose in proportion. People say that the ratio of viscose to fiber is 2:8, 3:7, which is usually viscous. The quality of non-woven fabric is high if the ratio of glue is high. The role of viscose is to increase the texture and feel of the non-woven fabric, and the role of fiber is antibacterial and antibacterial.
Second: Wet wipes, through the meaning, we know that they need to be soaked in water. The water here is not simple water, usually refers to RO pure water. It is raw water that uses reverse osmosis technology and is filtered by RO membrane to remove inorganic salts and trace elements in the water. , Minerals and other calcium and magnesium ions form pure water, which can increase the shelf life and quality of wet wipes.
Third: Some of the wet wipes contain a refreshing scent. I will talk about it here. It is added vitamin E in the baby wipes by adding plant extracts, such as aloe vera, citrus lemon, and baby wipes. They can better protect the baby's tender skin, and To prevent the red butt (referred to as heat rash) used by babies, most of the baby wet wipes on the market are fragrance-free and have a baby powder flavor. The baby powder flavor can repel mosquitoes and flies.
Fourth: the outer packaging, the material is food grade, so as to achieve sterile and no odor.
Fifth: Size and number of pieces, usually the size is 20x15cm, folded into an N-shape, the number of pieces is 20, 80, etc.
Tags:
If you have any requirement or suggestion, please fill in the form and send to us, or contact us by E-mail:sunymachine@gmail.com,thanks!