How to effectively crush and recycle waste tires
Time:2021-06-07 10:23 Author:Suny Group
In the prior art, the efficiency of each unit of the crushing equipment is very low. In order to increase the production per unit time of the crushing system, the number of equipment or the capacity of the equipment is increased intelligently. This method will greatly increase the investment in fixed assets. Moreover, due to the increase in the number of equipment, maintenance costs, number of personnel and other corresponding supporting facilities have further increased. This results in a substantial increase in production costs.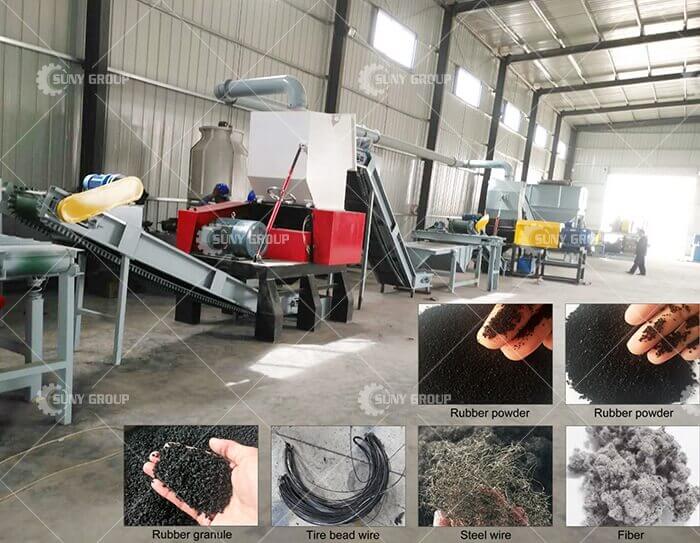 In order to achieve the above objective, the present invention includes a cutting device, a crushing device, and a steel wire separating device. The cutting device's unloading port feeds into the crushing device's feed port, and the crushing device's discharge port feeds to the steel wire separating device. The cutting device is characterized in that the cutting equipment includes a machine base, and a horizontally arranged sleeve is fixed on the machine base. The inner cavity of the sleeve is cylindrical, and the top of the sleeve is provided with an inverted frustum-shaped bell mouth, and the inside of the sleeve is far away One end of the bell mouth is connected with the inverted frustum-shaped guide tube, and there is a gap between the outer wall of the guide tube and the inner wall of the sleeve.
The end of the guide cylinder far away from the sleeve is connected with the coaxial cylindrical conveying cylinder. The conveying cylinder is fixedly connected with the guide cylinder. The outer wall of the conveying cylinder is closely attached to the roller group. The roller group drives the conveying cylinder to rotate, and the inner surface of the conveying cylinder is provided with a spiral. Guide convex strip.
Tags:
If you have any requirement or suggestion, please fill in the form and send to us, or contact us by E-mail:sunymachine@gmail.com,thanks!