The reason for the failure of the scrap shredder
Time:2021-06-08 10:27 Author:Suny Group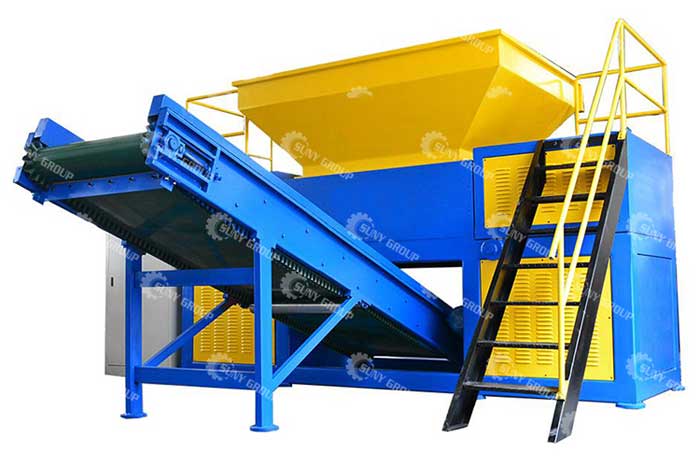 1. The scrap shredder must be preheated and idling before starting. Many people ignore this small detail, but it turns out that by idling and preheating before operation, the scrap shredder can be used better.
2. Choose the same material as much as possible. For example, we chopped wood, chopped wood all the time, chopped jars transplanted from chopped jars, this can improve the working effect of the scrap shredder, and the chopped product becomes even. It also has the function of protecting the scrap shredder.
3. The smooth operation of the scrap shredder must be done well, not only to increase the output value and production capacity, but also to make the life of the scrap shredder longer.
4. After finishing the operation of the scrap shredder, the material should be discharged completely before turning off the machine
Features;
1: Heavy movable knife, high crushing efficiency, all tools are made of alloy steel casting, strong and long service life.
2: The frame plate is thick, can resist high torque, and is very strong. nbsp;
3: It adopts microcomputer (PLC) automatic control, with start, stop, reverse and overload automatic reverse control functions.
4: The equipment has the characteristics of low speed, large torque, low noise, and dust can reach environmental protection standards.
5: Easy to adjust, low maintenance cost, economical and durable.
6: The thickness of the tool and the number of claws can be changed according to different materials.
7: Modular body structure, the core components of the equipment are all CNC precision machining and then assembled to meet the requirements of high-torque shredding operations
8: This product can crush large pieces, baskets, pipes, plates, wood, tires, and large rolls of film that are difficult to powder by a single-shaft shredder; nbsp;
9: The spindle and blade can be disassembled individually, which greatly reduces the cost of daily maintenance.
Tags:
If you have any requirement or suggestion, please fill in the form and send to us, or contact us by E-mail:sunymachine@gmail.com,thanks!