What is the shredder used for?
Time:2021-07-02 10:21 Author:Suny Group
The main function is to cut large pieces of materials that are inconvenient for transportation through the shredder and shred them into materials that meet the requirements.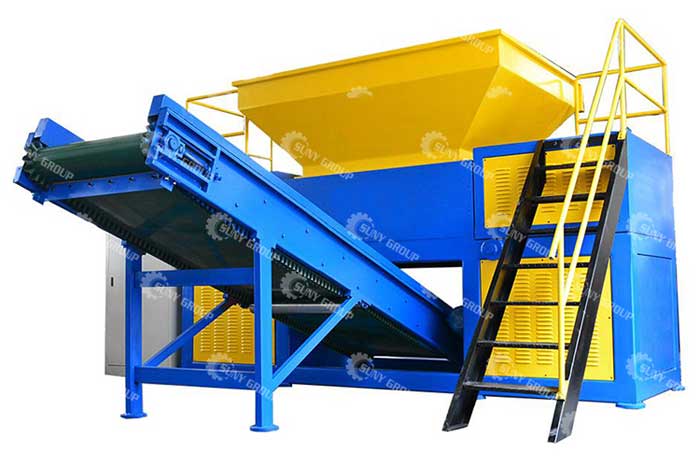 It is a machine composed of shredding blade set, carrying box, box bracket, feeding system, power system, and electrical control system. It is suitable for industrial waste recycling, electronics manufacturing, pallet manufacturing, wood processing, household garbage recycling, plastic recycling, tire recycling, papermaking and other industries.
Shredded objects such as various hollow containers, waste home appliances, waste plastic and rubber products, scrap steel, iron and scrap, urban garbage, household garbage, electronic garbage, scrapped vehicles, etc. The shredder is suitable for materials 1. Various hollow containers: plastic beverage cans, plastic barrels, iron barrels, packaging boxes, packaging barrels, rubber, plastic film, woven bags; 2. Waste home appliances: TV sets, washing machines, refrigerator shells; 3. , Pipes: large pipes, pipe fittings, PE pipes; 4. Scrap templates: wooden pallets, plastic pallets, forklift pallets; 5. Scrap tires: trolley tires, truck tires; 6. Scrap metal: car shells, aluminum alloys, scrap casts Aluminum parts, engine casing, lead, steel plate, waste steel; 7. Kitchen waste, domestic waste, RDF derivatives, biological straw, garden waste; 8. Plastic head material, twisted rope in paper mills.
Tags:
If you have any requirement or suggestion, please fill in the form and send to us, or contact us by E-mail:sunymachine@gmail.com,thanks!