Double-shaft shredder, specially designed for shredding items that are difficult to handle daily
Time:2021-08-09 17:09 Author:Suny Group
Speaking of the double-shaft shredder, we must first talk about the principle of the double-shaft shredder. The double-shaft shredder is based on the principle of two shredding knife shafts rolling and shearing and shredding to realize the processing of materials. The shredder cutter adopts a multi-claw structure. During the rotation of the main shaft, it cuts into strips while passing through. The knife claw head structure squeezes and cuts the material to realize the shredding effect of the material.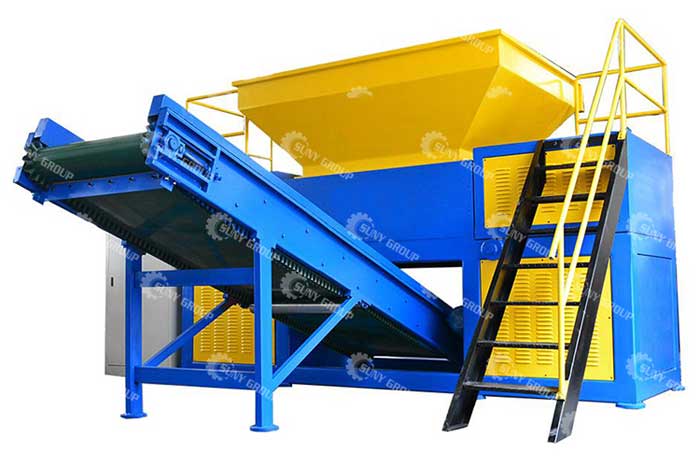 The double-shaft shredder equipment is equipped with start, stop, reverse and overload automatic reverse control functions, which can complete the material processing work safely and stably. The equipment has the characteristics of low speed, large torque, low noise, etc., especially for various high hardness , Large materials can be effectively crushed.
The double-shaft shredder can shred a lot of materials for resource recycling and reuse. Such as desks, waste furniture, paint buckets, chemical buckets, scrap iron, scrap aluminum, scrap steel, fishing nets, books, newspapers, cloth scraps, sponges, chairs, wooden cabinets, tires, rubber, old sofas, mattresses, storage Cabinets, washing machines, water heaters, plastic pallets, wooden pallets, can be shredded and shredded and the output is relatively large.
The double-shaft shredder can shred these cheap materials in a unified manner, which can be applied to many fields and recycled again. The equipment of the double-shaft shredder also conforms to the green project. It is a long-term investment that will last forever and make a lot of money. project!
So at this point, the choice of double-shaft shredder equipment is very important. Only by choosing good equipment can the shredding be better performed, and the finished products produced by it can be better recycled and reused. Effect.
Tags: