cable wire recycling machine for wire and cable separation equipment
Time:2021-08-24 11:29 Author:Suny Group
Waste wire recycling equipment is mainly used for the recycling and separation of various waste copper wires, communication cables, aluminum wires, electronic and electrical waste wires, automobile and motorcycle waste wires, copper-plastic composites and other wastes. The process is separated and recycled through a series of processes such as feeding, crushing, storage, feeding, decomposition, accumulator, vibrating screen, feeding machine, specific gravity separation, electric separation, etc. The purity of the plastic reaches more than 99.7%, and the recovery of copper The rate can also reach about 99.8%. This process is physical dry separation, without any chemical raw materials and water, and no environmental pollution. This process can also be used for the recovery of materials such as aluminum-plastic panels, aluminum-plastic tubes, medical sheets, and filters.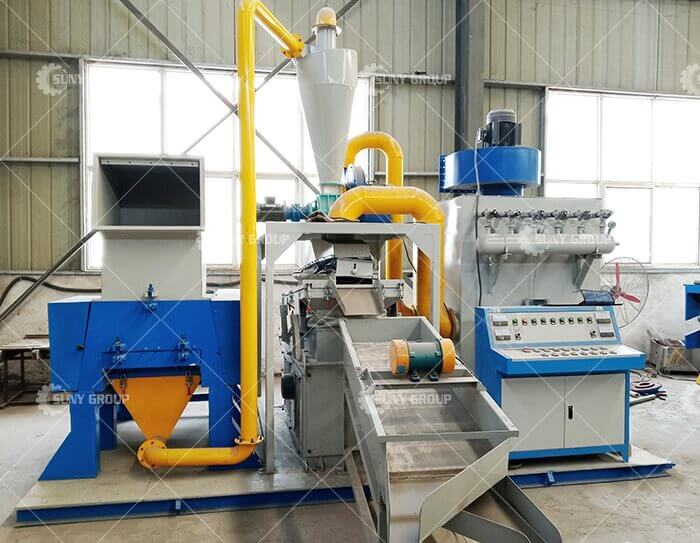 The efficiency of the cable wire recycling machine is fast. It takes about one minute from feeding to discharging. The copper wire and plastic are separated directly. The wet cable wire recycling machine has advantages and disadvantages. One is the problem of waste water pollution and the second process is cumbersome. The waste discharge control is strict. The wastewater discharge of the factory will be punished. The washed copper rice metal cannot be directly recycled. It needs to be dried in a dryer or self-heated before it can be used in the furnace. Rice is in a hydrated and wet state for a long time, and it is easy to oxidize and turn black.
The cable wire recycling machine can be adapted to different waste wire crushing and separation. The copper-plastic separation effect is also recognized and praised by users. The price and output are more in line with user needs. The 60-type cable wire recycling machine production line mainframe and conveyor cover a total area of ​​35 Square.
Tags: