Advantages of wet wipes manufacturing machine
Time:0000-00-00 00:00:00 Author:Suny Group
Wet wipe machine product advantages: It adopts original servo motor control, which is smarter than other products controlled by similar frequency conversion motors or frequency converters at home and abroad, with higher packaging accuracy, wider adjustment range, and more precise control. The scrap rate is lower, the stability is better, and the noise is lower. Due to the world's leading fully open box structure, the transmission structure is clear at a glance, and the maintenance is more convenient;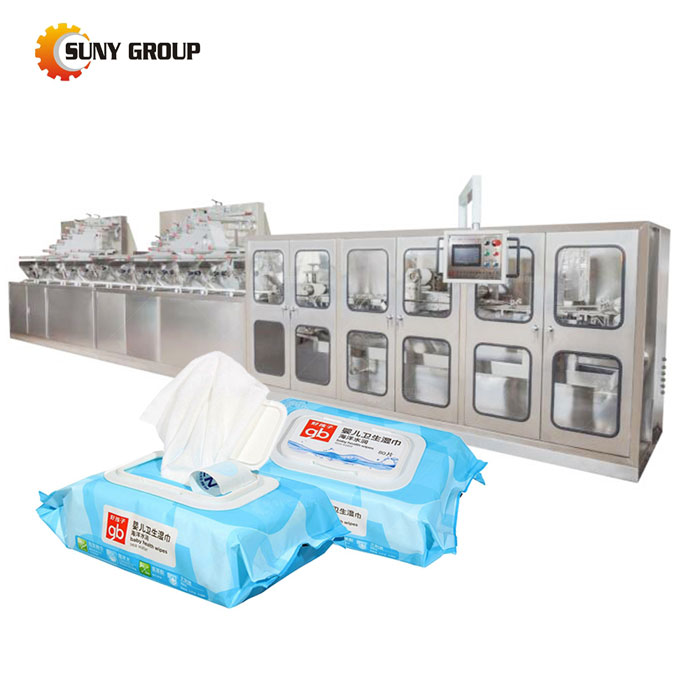 Features of Wet Tissue Machine:
1. Withdraw the punching die and the cover sheet bonding device. This technology has domestic originality.
2. Heat-sealing and cutting hob speed adjustable device, one knife has multiple functions, greatly improving production efficiency and reducing production costs.
3. Adopt advanced PLC computer program control, photoelectric detection sensor to detect color mark, photoelectric mark, two-way compensation, make the mark fast and accurate.
4. Each heating part adopts four sets of thermostats to automatically control the temperature, and the sealing quality is high.
5. The suction port is adhesively bonded with good airtightness and easy to open.
SUNY GROUP Co., Ltd. specializes in the production of automatic wet tissue packaging machine, disinfection wet tissue machine, wet tissue machine, four-side sealing wet tissue machine, automatic packing machine, single-piece wet tissue machine, wet tissue machine, eye mask packaging machine, wear arrow ( Sword) type baler, horizontal type baler, wet tissue machine brand, wet tissue production equipment and ancillary equipment and other products. Welcome to consult and cooperate! The company adheres to the business tenet of "providing customers with satisfactory products and services" and insists on " "Quality-oriented, customer first" business philosophy. We solemnly promise: while ensuring the safety and stability of the equipment, we will continue to improve the quality of the equipment, from in-sale to after-sales delivery, commissioning, equipment maintenance and management. , To ensure that customers can get good service and make customers satisfied.