Determinants of the electrostatic separator market
Time:2020-06-01 11:23 Author:Suny Group
In the solid waste recycling industry, metals and non-metals are separated, and impurity treatment is an important alternative, such as separating copper from plastics, aluminum from plastics, and metal from non-metals. The aluminum-plastic electrostatic separator is a professional equipment for separating aluminum and plastic. It has a good separation effect and the separation rate can reach more than 99.8%. What are the determinants of the price of Shanxi aluminum-plastic electrostatic separator? , Raw materials and other factors.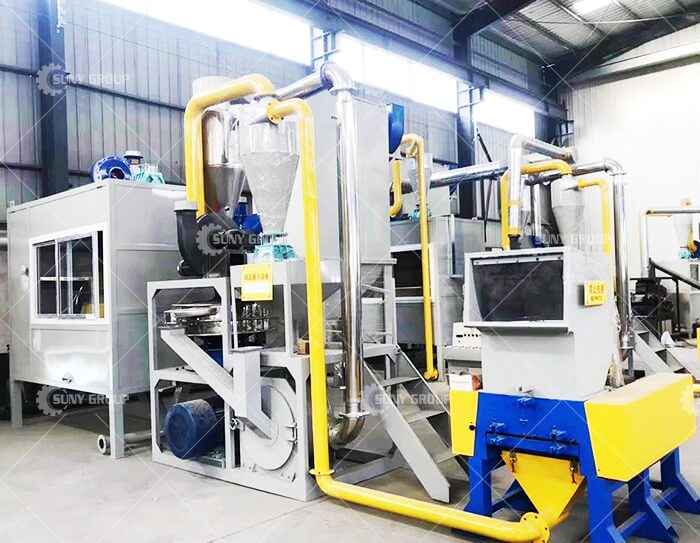 The aluminum-plastic electrostatic separator separates aluminum and plastic very well, ensuring the recycling of metal resources and achieving a sustainable development path. At present, many investors are also investing more and more in this industry, which is also a relatively good investment hotspot and also determines its future development prospects. The aluminum-plastic electrostatic separator is very convenient in use, does not require too much labor, and the automated procedure makes the operator use it faster. At the same time, the electrostatic separation method is used to ensure the separation effect and reach the ideal state. , To meet the industrial requirements for aluminum, so as to better apply to the market.
Due to the large difference in softening value between the two materials, aluminum and plastic, such mixed particles are very suitable for the separation of high-voltage electrical separators, plus a dust removal device, no dust and high separation purity. The advantage of aluminum-plastic electrostatic separator is that the separated aluminum particles and plastic particles can be directly marketed. The aluminum-plastic electrostatic separator is equipped with automatic conveying, sound insulation technology, cooling system, etc., which can realize one-time feeding and multiple machines to complete the separation of metal and plastic. The aluminum in the waste recovered by the aluminum-plastic electrostatic separator can maintain the quality of the original aluminum and recycle plastic. The aluminum-plastic electrostatic separator uses these resources well in a multi-unit combination. The aluminum-plastic electrostatic separator dust removal device has three levels of dust removal: cyclone dust removal, bag dust removal and air purifier dust removal, effectively solving the problem of dust pollution .
Tags:
If you have any requirement or suggestion, please fill in the form and send to us, or contact us by E-mail:sunymachine@gmail.com,thanks!