Introduction to the functional structure of the mask machine
Time:2020-06-01 11:27 Author:Suny Group
Ultrasonic mask machine equipment technology is very advanced, which is used in the textile industry manufacturing industry, etc. The following is an example to illustrate, non-woven mask machine can develop embossed patterns, can effectively control the system according to customer requirements, to ensure product size accuracy The raw materials are automatically heated, embossed, dialed, folded, cut, and counted until the finished product is fully automated. Let's follow along to understand the functional structure of the non-woven mask machine.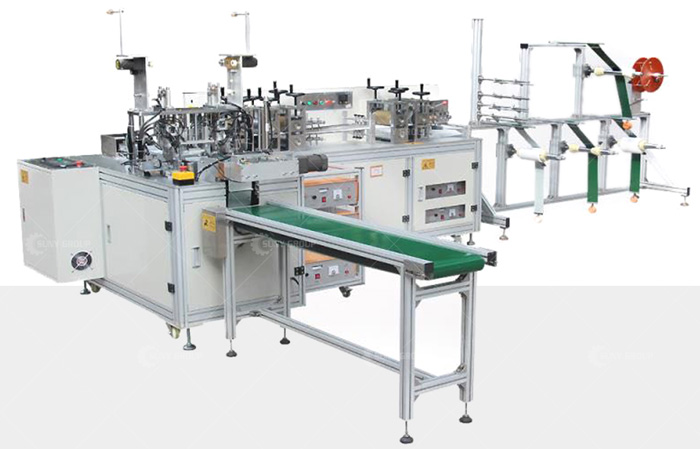 The equipment technology of the mask machine is very advanced. This equipment is fully automated from the feeding to the finished product. The raw material is melted, compounded, pulled and folded, and the finished product technology is completed without too many human operations. The grain is clear and firm, and the welding effect is good; the speed of the equipment can be adjusted according to the requirements, and the production efficiency is high.
1. This ultrasonic mask machine uses a pneumatic counting device to calculate the number of masks produced, and a conversion device for positive and negative guide cloth is added to make the production more automated and precise.
2. The components of its transmission system use two-piece gear movement. This can eliminate gear gaps, fine processing technology, and can increase the installation of static elimination devices. As long as the entire machine is involved in the product, stainless steel materials will be used. Make.
3. The ultrasonic mask machine adopts imported cutter cutting, durable and not easy to heat, and is equipped with automatic knife sharpening device. Ultrasonic mask machines are equipped with three sets of constant heating devices for heating (including a set of temperature control devices and related supporting electrical appliances). The temperature can be adjusted arbitrarily.
4. Ultrasonic mask machine is equipped with wide belt synchronous conveying device and two tension control devices to ensure the dimensional accuracy of the folded product. The non-woven mask machine is equipped with an innovatively designed multi-function special-shaped folding device, which can convert more product folding methods.
Tags:
If you have any requirement or suggestion, please fill in the form and send to us, or contact us by E-mail:sunymachine@gmail.com,thanks!