What about aluminum-plastic separation and recycling equipment
Time:2020-06-18 11:15 Author:Suny Group
No matter from the perspective of resource recycling or environmental protection, the development of aluminum-plastic separation and recycling equipment is imperative. Aluminum-plastic composite material refers to a material composed of aluminum and plastic and other polymer materials. The material and commodities have the characteristics of light weight, good wear resistance, good thermal stability, easy processing, easy to use, high added value, etc. Has become a necessity of people's lives. Nowadays, resources are increasingly scarce and environmental awareness is getting stronger. If aluminum and plastics in these wastes can be effectively recycled, not only can they bring considerable economic benefits, but they can also purify the environment. Therefore, what kind of equipment is the aluminum-plastic separation and recycling equipment?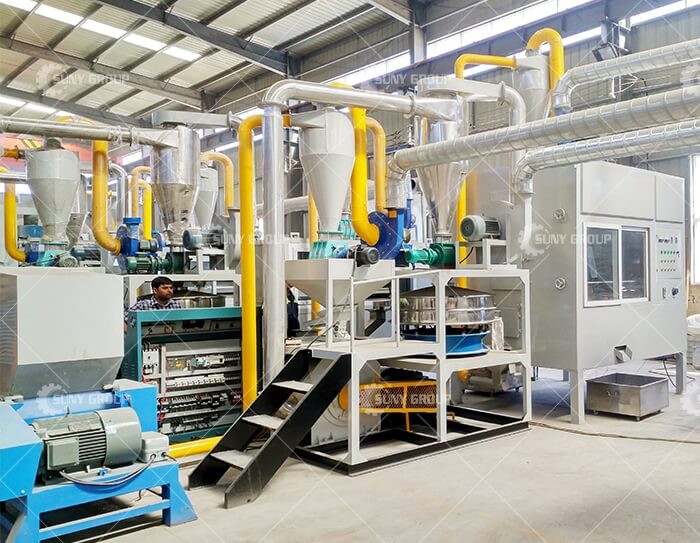 Aluminum-plastic separation and recycling equipment is a professional production equipment for processing aluminum-plastic plates, aluminum-plastic medicine plates, aluminum-plastic cable skins, aluminum-plastic sawdust, aluminum-plastic flexible packaging, toothpaste skins and other aluminum-plastic composite materials, and is at the leading level in China. The successful application of aluminum-plastic separation and recovery equipment not only solves the problem of environmental pollution caused by traditional recycling methods, but also improves the quality of recycled aluminum, and at the same time can recycle the plastic in it, which improves the economy brought by recycling. benefit.
The aluminum-plastic separation and recovery equipment completely adopts the mechanical separation method. The aluminum-plastic separation and recovery equipment refers to equipment that completely separates the aluminum-plastic composite material into metal and plastic. The aluminum-plastic separator adopts the method of physical crushing electrostatic separation to separate aluminum-plastic. First, the medicine board enters the crusher and becomes a piece of material less than 10mm, and then enters a high-speed water-cooled turbo crusher to shred the material. The principle of electrostatic sorting machine for materials that meet the requirements after screening by vibrating screen to separate aluminum and plastic, and return the unqualified mill to repeat the process. The entire set of equipment is separated by dry physical method, which not only does not cause secondary pollution to the environment, but also has relatively good social and environmental benefits. The aluminum-plastic separator has a high degree of automation, stable performance and simple operation. The separation rate of electrical separation reaches 99%, and the finished product can be sold directly. The separator has a wide range of material sorting, quick baking soda sorting, low power consumption, low noise and no dust pollution.
Tags:
If you have any requirement or suggestion, please fill in the form and send to us, or contact us by E-mail:sunymachine@gmail.com,thanks!