Mask light wave sterilization equipment is introduced in detail
Time:2020-06-19 11:01 Author:Suny Group
Light wave sterilization machine has the advantages of high intensity of scattered light, high transmittance quartz glass tube, transmittance ≥87%, unit price is also moderate than similar products, after sterilization life reaches 20,000 hours, its scattered light intensity is 253.7um high brightness Mirror sterilization reaction chamber design. The sterilization intensity of similar products abroad is increased by 18%-27%, the sterilization rate can reach 98.99%, and the materials are irradiated. One second is equivalent to 30,000 seconds of sunlight.
Both the inside and outside of the main body are made of 304L stainless steel, and the inside and outside of the main body are polished to enhance the overlapping illumination of the light wave to ensure that there is no incomplete sterilization during the sterilization process.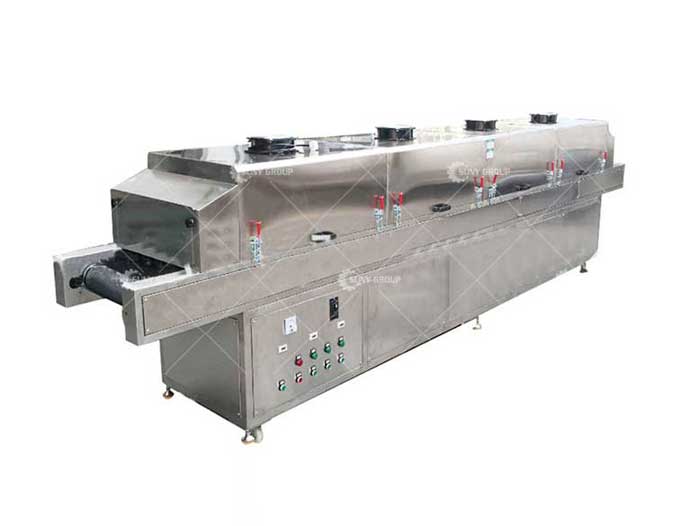 People use the principle of light wave sterilization to introduce the hospital's professional sterilization technology into the field of daily life sterilization. This kind of application in daily life indoor, home, car, refrigerator sterilizers and industrial sterilizers uses high-frequency C-band light waves Within 20 seconds to 1 minute, it can damage the DNA of various microorganisms and can kill nearly 99% of bacteria and viruses, including: influenza, hepatitis virus, salmonella, E. coli, Staphylococcus aureus, Bacillus subtilis spores and A variety of mycoplasma and allergens provide a safe environment for people to eat, drink and live, especially suitable for the rapid sterilization of food, medicine, cosmetics, tableware, masks, protective clothing, leather, textiles, personal and public goods and other items.
Light wave principle
The light wave is a light wave that is invisible to the naked eye and exists in the lateral direction of the purple ray end of the spectrum, so it is called a light wave. The light wave system comes from one of the electromagnetic waves of solar radiation, and it is usually divided into four types according to the wavelength. It is a special form of matter movement, a stream of particles that are not connected. Each light wave photon with a wavelength of 253.7 nm has an energy of 4.9 eV. When light waves are irradiated to microorganisms, energy transmission and accumulation occur, and the accumulation results in the inactivation of microorganisms, thereby achieving the purpose. When bacteria and viruses absorb doses exceeding 3600~65000uW/c㎡, they have a strong destructive effect on bacteria and viruses' deoxyribonucleic acid (DNA) and ribonucleic acid (RNA), which can make the bacteria and viruses lose their viability and light waves. Set up nucleic acid mutations, recombine its replication, transcription blockade and protein synthesis; transformation, the generation of free radicals can cause photoionization, resulting in cell death.
Features
1. Can quickly and effectively kill various bacteria, viruses and other microorganisms;
2. Through photolysis, it can effectively degrade chloride in water;
3. Simple operation and convenient maintenance;
4. Small footprint and large processing capacity;
5. Zero pollution, strong environmental protection, no toxic and side effects;
6. Low investment cost, low operating cost, and convenient equipment installation;
7. Using optical principles to design a unique inner wall treatment process, which allows the use of light waves in the cavity to a greater extent, and doubles the sterilization effect.
Tags:
If you have any requirement or suggestion, please fill in the form and send to us, or contact us by E-mail:sunymachine@gmail.com,thanks!