Circuit board automatic disassembly machine workflow
Time:2020-07-01 11:55 Author:Suny Group
Circuit board automatic disassembling machine is also known as PCB circuit board disassembling equipment and electronic component automatic disassembling machine. This equipment has a high degree of automation and replaces personnel disassembly. It has automatic disassembly function and automatic dust removal function, which shortens the disassembly time. And it covers a small area.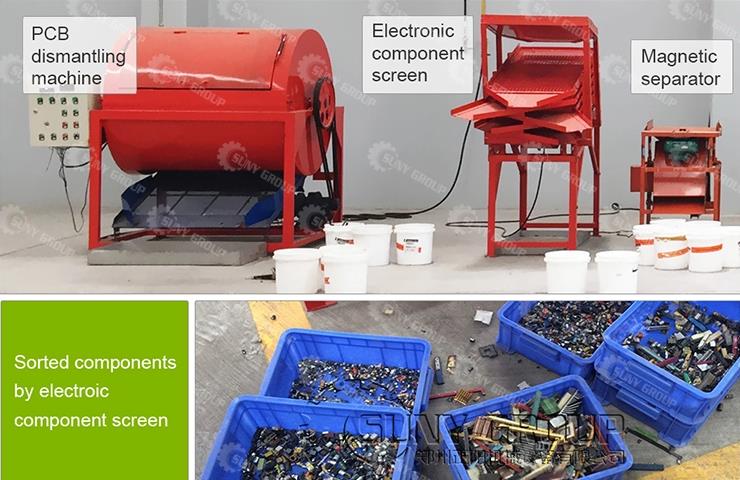 Equipment composition:
This equipment is composed of a desoldering furnace, automatic disassembly, automatic dust extraction, conveying platform, and electronic control parts, and is an ideal equipment for disassembling components on the circuit board.
Efficient Electronic Components Removing Unit, Printed Circuit Board Dismantling Machine is used to remove the electronic components on different PCB boards, The drumar made of 6mm thickness #45 steel and its own special technology, which have the characteristics of high temperature resistance, abrasion resistance, safety and reliable, stable performance, high precision, durability. It is a good tool for PCB recycling plant.
Use the nature gas as the heat, the tin will loose when the temperature arrive at 200-300C. These electronic components will be separated because of scraping function between the circuit board when the rotary drum works. So we can dismantle electronic components from PCB mother board. If our customer want to classify them clearly, then we can equipped with electronic components screen and magnetic machine.
PRODUCT FEATURESMother board and components can be proceed respectively in the next step to improve economic benefits.1. Full automatic working, save labor, 1-2 persons are enough;2. Tin remove and dismantling components at one step;3. Automatic temperature control system,controlled by PLC;5. Large capacity: 500kg/h;6. Operating safety and easily;7. It can ensure the nature of electronic component and keeps its high recycle value;8. Friendly to the air environment, all the smoke processing by the waste gas treatment system.
Tags:
If you have any requirement or suggestion, please fill in the form and send to us, or contact us by E-mail:sunymachine@gmail.com,thanks!