Tetra Pak aluminum-plastic sorting and recycling equipment
Time:2020-07-03 10:56 Author:Suny Group
With the rapid development of the food industry, the packaging requirements for food are becoming higher and higher. At present, plastics, paper products, and aluminum-plastic packaging are common. Aluminum-plastic packaging has low cost, is safe and non-toxic, and is widely used in the packaging industry. However, the amount of domestic waste generated is also extremely large, how to deal with these waste packaging to avoid impact on the environment? Aluminum and plastic separation and recycling equipment through physical separation and electrostatic separation can separate aluminum and plastic, and then carry out two Secondary processing and sale generate certain economic value.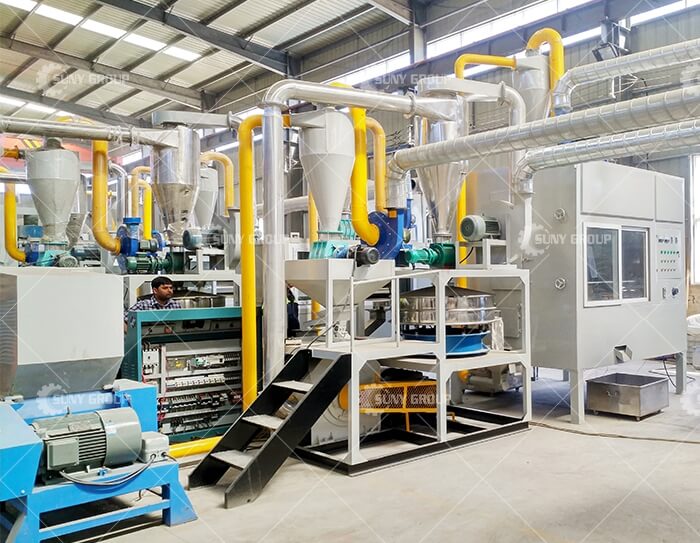 The raw materials of the equipment come from the corner scraps of pharmaceutical factories, aluminum-plastic panel factories, food and beverage factories and other aluminum foil packaging industries. The waste flexible packaging bags, capsule plates, toothpaste skins, wahaha bottles, etc. in the waste station are also suitable.
Work process: The aluminum-plastic separation and recycling equipment uses physical crushing electrostatic separation to separate aluminum and plastic. First, the medicine board is coarsely crushed into a sheet of 10 mm or less by a knife-cutting crusher, and then enters a high-speed water-cooled turbo crusher. The flakes are finely crushed into a mixture of aluminum and plastic. The materials that meet the requirements are screened by the rotary vibrating screen. The principle of electrostatic separator is used to separate aluminum and plastic. The unqualified materials are returned to the mill to continue crushing. The losses of aluminum and plastic are very low, and the recovery rate of aluminum is close to more than 99%. This equipment adopts completely dry physical separation, does not cause secondary environmental pollution, and has good social and economic benefits.
Product features: 1. High automation procedures, simple operation and stable performance;
2. Low power consumption, low noise, small footprint, no dust pollution;
3. The separation efficiency of electrical separation reaches 99%, and the finished product can be sold directly;
4. Wide range of sorting materials and fast sorting speed;
5. No waste water and exhaust emissions, true green environmental protection sorting, no secondary pollution;
6. Aluminum-plastic separation and recycling equipment adopts water-cooled and air-cooled turbine mills, which can separate materials more cleanly and adapt to a wider range of materials.
Tags:
If you have any requirement or suggestion, please fill in the form and send to us, or contact us by E-mail:sunymachine@gmail.com,thanks!