Double shaft horizontal shredder
Time:2020-07-03 11:03 Author:Suny Group
The main function of the dual-shaft shredder is to pass large-volume materials and large-diameter barrel materials that are not convenient for transportation through the shearing, tearing and squeezing of the dual-shaft shredder to reduce materials. The large-size twin-shaft shredder not only improves the production capacity and crushing efficiency, but also expands the scope of application. On the basis of absorbing the advantages of various shredders, the large-scale twin-shaft shredder products make full use of impact, shear and mutual impact , Grinding and other processing methods R & D and production.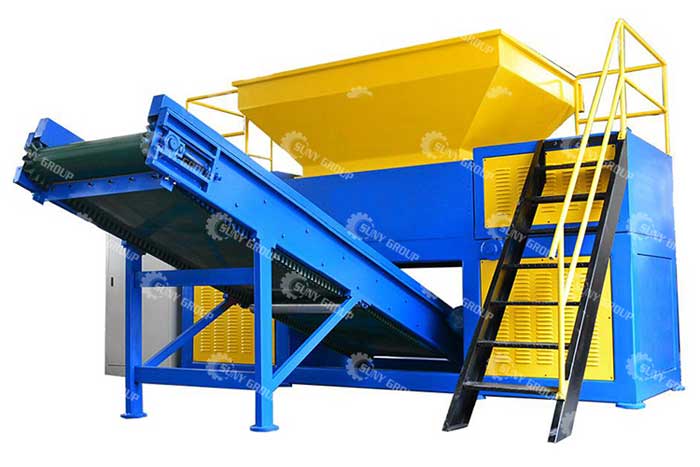 The working principle of the two-shaft shredder is to reduce the size of the material by shearing, tearing and squeezing. This shredder is widely used in waste color steel tiles, waste paint buckets, waste oil drums, car shells, and oil filter elements. And other large-volume waste biaxial materials.
MAIN STRUCTURES
1. Shaft, moving blades, fixed blades, reducer, motors, feeding hopper, discharge port, electric control cabinet, control panel, screen, roller, knives holder, etc.
2. After shredding, the dimension of most large plastic or other material will reduce 30%. some material dimension after shredding can up to 50%.
Tags:
If you have any requirement or suggestion, please fill in the form and send to us, or contact us by E-mail:sunymachine@gmail.com,thanks!