Disposable mask machine ear straps cannot be welded
Time:2020-07-06 16:22 Author:Suny Group
Many manufacturers are eager to start work after purchasing mask models, but it is not that simple. Mask machine ultrasonic as a professional ultrasonic plastic welding equipment manufacturer for 23 years, to everyone who enters the mask machine industry, it is recommended to avoid the common failure of mask ear straps. In actual operation, we can find a professional ultrasonic welding factory to assist. The ultrasonic welding of mask machine can be customized according to customer needs. The whole process of one-on-one consulting service, complete production equipment and testing equipment, is a national high-tech enterprise. Welcome to visit the factory.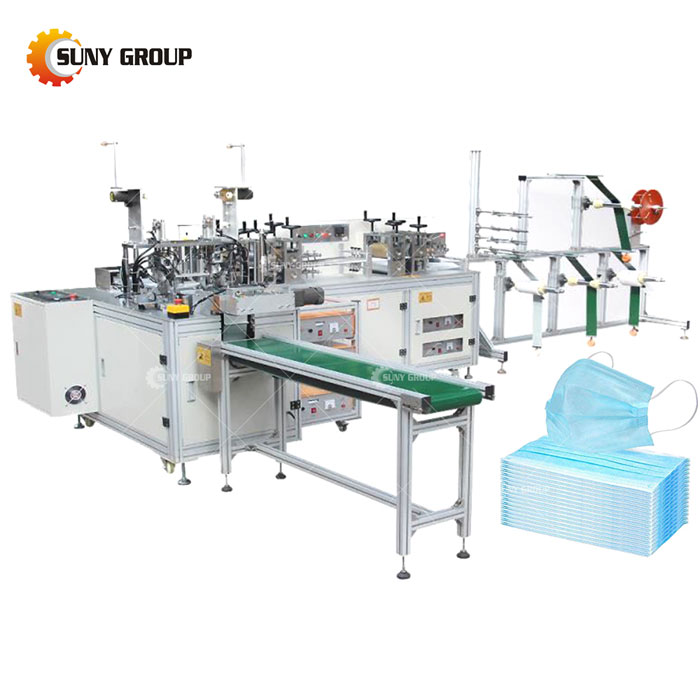 Precautions for common failures of disposable ultrasonic mask ear straps:
1. Each mold and transducer are equipped with a fan, so that the heat dissipation effect is better.
Second, the mold and welding wheel should be adjusted to the level, unevenness will not weld well.
Third, the flange and the steel mold must be tightly installed, otherwise abnormal noise will occur; if the steel mold is not installed tightly, the screw will be damaged and the welding effect will not be achieved.
4. Don't ask for speed blindly, but you can't reach the speed. Long-term high-speed operation will cause great loss to the machine.
Fifth, choose the right model. It is better to use 15kHz 2600W for flat machine filming; 20kHz 2000W for the welding ear strips, except for high-speed machines.
Sixth, voice recognition, it will be accompanied by a sharp and squeak noise during normal use. Don't let the subjective sense of disorderly function!
7. The precision and flatness of the welding surface of the steel mold are very high, to avoid collision and knocking, otherwise it will result in weak welding, and the steel mold will basically be scrapped.
8. Pay attention to the power off and let the ultrasound rest. Long-term high-speed work and continuous power, machine scrap will be accelerated.
Nine, the long hair of the control line can be equipped with a relay to control the power supply with the computer; the intermittent hair has leads from the chassis.
The above are the precautions for the disposable ultrasonic mask earbands brought to you by the ultrasonic mask machine. "Ultrasonic mask machine operation and daily maintenance", fight the epidemic together, overcome the difficulties, gather wisdom and support epidemic prevention.
Tags:
If you have any requirement or suggestion, please fill in the form and send to us, or contact us by E-mail:sunymachine@gmail.com,thanks!