The information of waste tire recycling equipment turning waste into treasure will bring you huge commercial value
Time:2020-07-07 11:02 Author:Suny Group
SUNY GROUP's waste steel wire tire rubber powder production line can recycle car tires and truck tires to produce rubber powder with different meshes. Different mesh powders can be applied to a variety of industries, such as sports fields, rubber modified asphalt and various molded products. In the processing of waste steel wire tires, steel wire and nylon fiber can be effectively removed. The waste steel wire tire rubber powder production line can turn useless and harmful environmental waste tires into treasure, bringing you great commercial value.
Main configuration of waste steel wire tire powder equipment line: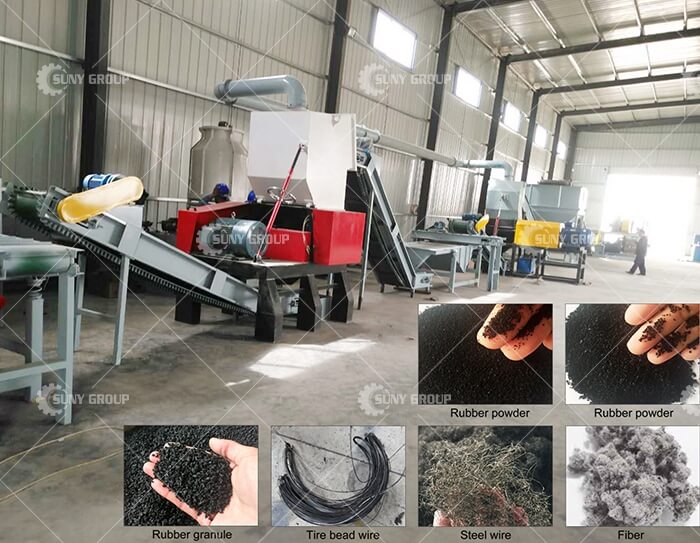 Rubber shredder: Shredder the tires into 50*50mm or larger rubber blocks for subsequent machine handling. The rubber shredder is dual-driven and has the advantages of high torque, low speed and long service life. The hydraulic device on the hopper can effectively force the material to be forced to the cutter plate to improve the shredding efficiency.
Rubber Crusher: Crushing 10-15mm rubber particles into 5-15 mesh rubber particles, with many equipment specifications, the output of a single machine can reach 300-1500 kg/h.
Milling machine: processing 5-15 mesh rubber particles into 40-80 mesh fine rubber powder. A brief analysis of the market prospects of waste steel wire rubber powder production line: Advantage 1: The market is in great demand. Rubber, oil, coal, and iron ore are listed as the four major industrial raw materials. With the rapid development of China's economy, the demand for rubber raw materials is rising linearly At present, the domestic production growth rate is only one-third of the consumption growth rate. The gap between supply and demand is constantly expanding. Reusing rubber can replace part of natural rubber, and the market demand is strong! Advantage 2: Recycling rubber has a wide range of sources and uses. With the rubber industry And the development of the automobile industry, a large number of waste tires, rubber products and other scraps continue to increase.
The current recovery rate is only 30%. A wide variety of waste rubber is very sufficient for the comprehensive utilization of waste rubber resources. The field is very wide. It can replace part of natural rubber and is the main raw material in the field of new materials, such as: waterproofing membranes, rubber Runway, rubber floor, liquid asphalt, rubber sealing ring, artificial turf, etc. Advantage 3: The investment of waste tire rubber powder production line is small. The waste steel wire rubber powder production line produced by Gongyi Ruisaike Machinery Equipment Co., Ltd. can process both waste tires and other kinds of waste rubber, and has small investment, low cost, large income, simple operation, time and labor saving, energy saving Environmental protection features!
Tags:
If you have any requirement or suggestion, please fill in the form and send to us, or contact us by E-mail:sunymachine@gmail.com,thanks!