The entire production process of the mask machine is analyzed
Time:2020-07-13 14:51 Author:Suny Group
During this time, the mask began to burst, which also led to serious defects in the number of masks. Therefore, the mask machine has also begun to attract the attention of the industry, and now a simple sharing of the production process of the mask machine.
For the entire process of the mask machine, except for the part of the separation conveyor belt, there is only one drive motor, and the power of each moving roller comes from this motor. The transmission of intermediate power is achieved through the transmission parts of the mask machine such as sprockets, chains, and gears.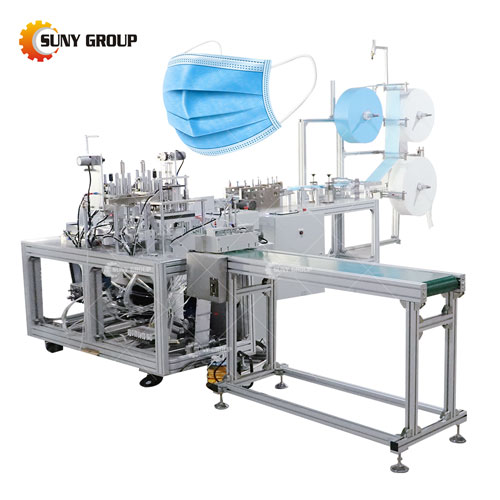 The wrinkle forming process of the mask needs to pay attention to the horizontal alignment of the cloth placement frame and the double-knife rotary cutting, and it is easy to have the related problem that the wrinkle is not at the center. During the entire operation of the mask machine, the cutting principle of the driving of the nose bridge line is mainly the rolling cutting principle. At the same time of cutting, the fabric will also complete the folding process on one side.
Because the efficiency of the previous process is very fast, in order to achieve the matching state of the production speed of the mask machine, it is carried out in a one-for-two way. This process uses the mask body from the previous process of distribution.
Because the welding and folding processes of the ear straps are the same, we only analyze one process.
The main body of the mask is transported from the previous process to the feeding position, and follows the stepping conveyor line.
Through the earband welding member, the earband is welded to the mask body.
After the folding position of the ear strap, fold the ear strap inward. The position of this mask machine is one of the extra procedures mentioned in the external ear procedure.
The completed masks will enter the position of the palletizer, 10 for each pallet, and then placed in the blanking conveyor belt, and then manually removed.
The above is the whole process of using the mask machine to produce masks in our special period. Do you feel that the current production speed is fast?
Tags:
If you have any requirement or suggestion, please fill in the form and send to us, or contact us by E-mail:sunymachine@gmail.com,thanks!