Reasons for blockage of rubber crushing equipment
Time:2020-09-02 10:48 Author:Suny Group
The clogging of rubber crushing equipment is the first problem often encountered in the use of crushers. The key is the following three reasons: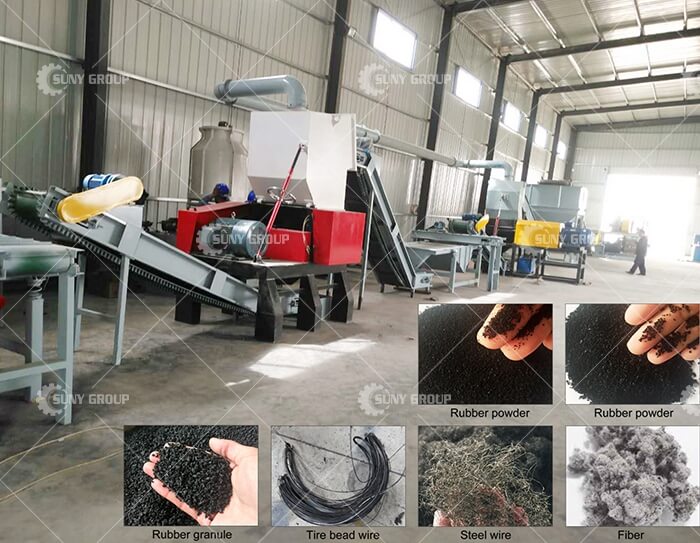 1. The feed rate is too fast and the load is increased to cause blockage: When feeding the rubber crushing equipment, you must pay attention to the current meter. If the offset angle of the needle is too large and exceeds the rated voltage, this indicates that the motor is loaded. If the load time is too long, it will be damaged. In this case, the raw material door must be lowered or closed immediately, so that the feeding method can be changed, and the feeding amount can be adjusted and manipulated according to the total number of feeding feeders. There are two types of feeders for rubber crushing equipment: manual and fully automatic. The customer must select a suitable feeder according to the specific situation. Because the rubber crushing equipment has a high speed ratio, a large load, and a large load fluctuation. According to this standard, in order to ensure that the speed ratio of the rubber crushing equipment is too fast, the current during the operation period of the rubber crushing equipment is generally manipulated at about 85% of the rated voltage.
2. The feed pipe of the rubber crushing equipment is not smooth or blocked. Too fast feeding will also block the air outlet of the rubber crushing equipment; this situation is the same as the wrong pairing of the transportation equipment, which will cause the wind in the sewage pipe to decrease Or completely blocked after no wind. After discovering the problem, the first thing to do is to clear the feed port, replace the mismatched feed equipment, adjust the feed rate, and ensure the normal operation of all machinery and equipment.
Third, the hammer head is broken, aging, the round hole screen is closed, outdated, and the water content of the crushed raw materials is exchanged, which will block the rubber crushing equipment. In order to ensure that the rubber crushing equipment is not easy to be blocked, the damaged hammers will be replaced on time to maintain the good operation of the rubber crushing equipment. In addition, the stainless steel screen should be checked frequently. The reason is actually not very difficult. It is to ensure that the rubber crushing equipment can make full use of its greater and high efficiency in the whole process of operation. In addition, the requirement for crushed raw materials is that their moisture content should not exceed 14%, which not only improves production efficiency, but also prevents clogging of the crusher and improves the credibility of the operation of rubber crushing equipment.
Tags:
If you have any requirement or suggestion, please fill in the form and send to us, or contact us by E-mail:sunymachine@gmail.com,thanks!