Waste tire recycling program
Time:2020-09-03 10:44 Author:Suny Group
Waste tire recycling program The purpose of tire recycling program is to decompose its single composition, including rubber, steel wire and textiles. The SUNY GROUP production line allows the raw materials to reach high purity through multi-step recovery processing, so that they can be recycled.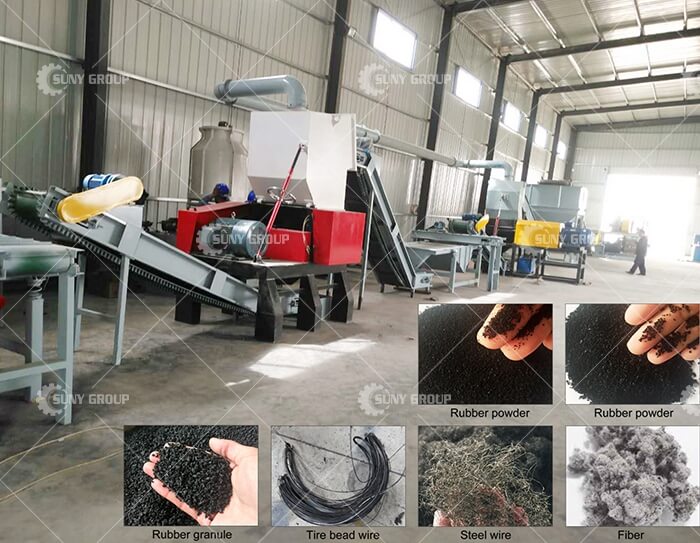 Primary crushing treatment: UC rotary cutter-crushing waste tires to palm size (70-100mm)
Secondary crushing treatment: UG fine crusher-further crushing the primary crushed materials to a size of 8-10mm
Fine crushing treatment: USM cutting and grinding machine-fine crushing to less than 4mm
Finely ground to rubber powder size
Separation and cleaning after each fine crushing treatment
Output material
Tire fragments
Rubber granules
Rubber powder
Steel wire
Textiles
Advantage
SUNY GROUP's practical process technology ensures low operating costs through efficient process equipment
Single customer interface, the entire line, all sub-processes and equipment will be controlled by a unified source
Modular system design can customize solutions for special waste flow bodies
The crushing equipment can achieve the best shearing effect and the most ideal processing capacity
Extremely durable motors, blades and blades
The equipment parameters can be adjusted according to the output material quality and size requirements
Obtain pure output material fragments
Tags:
If you have any requirement or suggestion, please fill in the form and send to us, or contact us by E-mail:sunymachine@gmail.com,thanks!